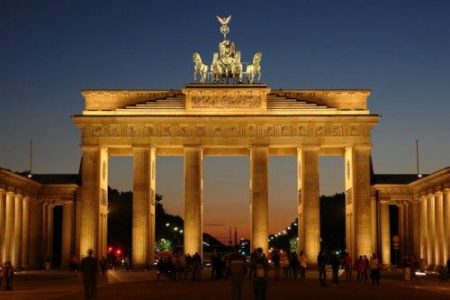 An Opulent, Operatic Sunday Jazz Brunch
In Berlin At Opernpalais Café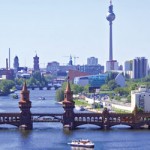 Berlin's rich cultural life offers something for every taste. Jazz lovers flock to the city for its renowned jazz festivals and abundance of clubs and bars.  To keep track of what's going on many Berliners check out Zitty, a web site and magazine that gives details in German of everything that's happening. If you can't read German then an alternative is the ExBerliner website in English.  Before you head out at night treat yourself to a uniquely Berlin experience that combines its historic charm with a jazzy Sunday brunch.
From opera to live jazz, which plays during the Sunday Brunch, Berlin's Opernpalais Café   delights the senses in many ways. Built in 1733-37 as the city residence of Friedrich III's three daughters, the beautiful building was long referred to as the "Princess' Palace."  These days, it's home to two restaurants and the Opera Café providing a rare opportunity for you to enjoy 19th century-style luxuries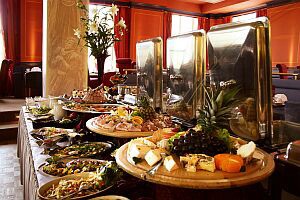 in contemporary Berlin. The traditional coffee and cakes, as well as the decor complete with brass fittings an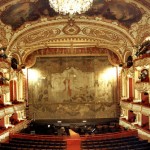 d oil paintings, all add to the regal, old-world charm of the café.
Just next-door to the State Opera House, the café offers a lavish buffet for Sunday Brunch that includes an array of traditional German and continental cuisine, which is served from 11:00 am – 2:00 pm. Live jazz plays throughout the brunch.
What literally takes the cake at Opernpalais are the outstanding desserts. Competing with the decor for sheer opulence, the dessert menu features more than 100 cakes, pies, cookies and fruity tarts made fresh daily by the café's bakers. In a city famous for its mastery of pastry,  Opernpalais upstages the rest with their elegant, artistic versions of traditional desserts like Sachertorte (chocolate cake), Schottischer (shortbread) and many other beloved favorites.
Comments
comments