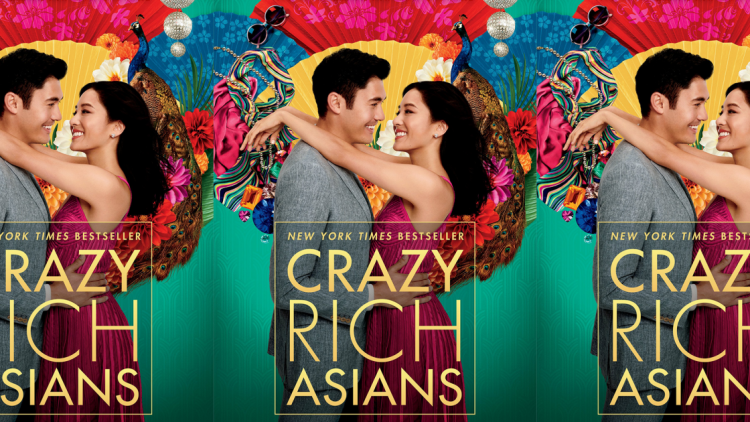 Singapore for Crazy Rich Asians
and the Rest of Us
If you've seen the summer movie blockbuster, Crazy Rich Asians, you know its lavish setting is Singapore. Get the whole picture about it from our Singapore-born friend, Mimi Kotecha, and get even more insight from the article by a non-billionaire visitor, Harrison Jacobs, below.
London-based, Singapore-born, Mimi Kotecha

takes you inside the real Singapore
Mimi is a self-employed accountant whose interests include hiking, traveling, listening to smooth jazz music, playing with her two Bengal cats and enjoying afternoon tea and cake!! Very English. Her favorites include lemon drizzle, scones with jam and clotted cream and chocolate cake.In October 2017 she did the 4 day Inca Trail hike to Machu Picchu, the Incan citadel high in the Andes Mountains of Peru at an elevation of 2,430 metres. She then did the 8 day hike to Everest Base Camp at 5,364 metres in May this year from the Nepalese side. This true citizen of the planet describes her ideal visit to Singapore in the following story: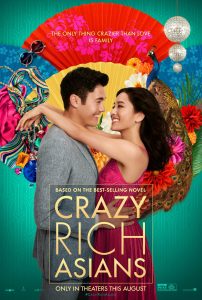 I was born in Singapore but have lived in London for many years. I consider Singapore as my home as I was born there and spent my formative years there. I have my family and friends in Singapore and try to visit them as often as possible.
The article below is a very accurate guide of Singapore and I agree with the writer's sentiments that you do not need to be filthy rich to enjoy yourself in Singapore. My favourite places to visit in Singapore are Gardens by the Bay, Infinity Pool at Marina Bay Sands, Jurong Bird Park, The Botanic Gardens and the amazing shopping malls in Orchard Road. The food in Singapore is so diverse and delicious, my favourites include Chilli Crab, Rojak (both Indian and Chinese), Hainanese Chicken Rice, Satay, Roti Canai to name a few. Many of my friends in Singapore have seen Crazy Rich Asians, and their opinion of the movie is that it is not that spectacular, however, it does encapsulate the snobbish Asian culture among the rich who would not entertain the idea of their children marrying someone who is not from a similar social-economic class.
Check out the article below by Harrison Jacobs for a more comprehensive view of Singapore.

I visited Singapore,
the outlandishly wealthy
setting of 'Crazy Rich Asians,'
and was surprised by how much fun
you can have even without billions
The summer blockbuster "Crazy Rich Asians" is set in Singapore, which is known worldwide for its extravagance and wealth.
I visited Singapore in May expecting it to be wildly expensive and out of reach for all but wealthy travelers.
But I found that the city was full of cheap, delicious food, efficient public transportation, top-notch museums, a budding nightlife scene, and beautiful parks. As I quickly learned, if you do as the Singaporeans do, you can easily have a blast in the city without breaking the bank.
---
Singapore, known worldwide for its extravagance and wealth, is the setting of "Crazy Rich Asians," the summer blockbuster everyone's talking about based on the bestselling novel by Kevin Kwan.
In recent years, it has become "a one-stop shop for Asia's rich," according to The New York Times, perhaps surpassing even Switzerland as a place for the world's millionaires and billionaires to park their money.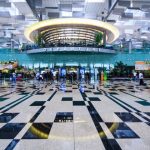 The airport has a private-jet terminal. The city-state's best-known landmark is a $6.6 billion megahotel that looks like a floating ship. And there are facilities like Le Freeport, an ultra-secure duty- and tax-free facility for the superrich to store their stuff.
In March, Singapore was named the world's most expensive city to live in for the fifth year running by the Economist Intelligence Unit's "Worldwide Cost of Living" survey.
As a traveler not accustomed to spending a fortune on trips I wasn't sure what visiting Singapore would be like.
But after spending four days in the city in May, I found that my fears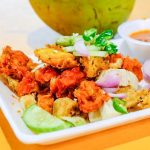 were unfounded. The city abounds with cheap, delicious food, efficient public transportation, top-notch museums, a budding nightlife scene, and beautiful parks. As I quickly learned, if you do as the Singaporeans do, you can easily have a blast in the city without breaking the bank.
Contrary to depictions like those found in "Crazy Rich Asians," most Singaporeans are not rolling in cash. The average salary in the city is about $42,000, according to Payscale.
Here's what it was like to visit Singapore:
My trip to Singapore, like most places, started at the airport. But Singapore's Changi International Airport isn't just any airport — it's considered the best in the world. Upon arriving, I found out why.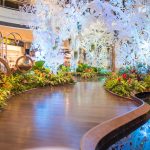 Though the airport boasts impressive amenities like a free movie theater, a butterfly garden, a rooftop swimming pool, and 24-hour spas, it's the facility's cleanliness and efficiency that the average traveler will notice most. I really enjoyed the abundant green spaces as well.

The city has been known as the "garden city" since Lee Kuan Yew,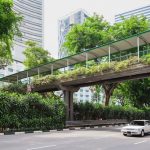 Singapore's first prime minister, introduced the concept in 1967. His vision was to envelop it in lush foliage to make it cleaner and more pleasant. His initiative worked. About 1.4 million trees have been planted in the past 40 years, and new buildings are routinely covered in greenery.
For my first two nights in Singapore, I got a steal at Hotel G for $77 a night. Located near the city center, the chic boutique hotel had tight, clean, well-arranged rooms.
I did spend a few hours wandering through the Bugis Street Market, Singapore's biggest market. While it has a salacious past, today it is packed with cheap clothes, accessories, and food stalls. It's a classic market often seen in Asia: rambunctious, colorful, and rife with copyright infringement.
You experience Singapore with your mouth — perhaps more than any other place I've visited. For those in the know, the city is foodie heaven. Chinese, Indian, and Malay populations bring their unique culinary cultures to the food scene. And the best place to experience that is in Singapore's hawker centers.
I spent an entire day visiting hawker centers and trying as many dishes as I could fit in my stomach; they rarely exceeded $10. What makes Singaporean food so incredible is the way it transforms dishes from one culture to another. Case in point: Indian mutton noodles, which incorporates noodles from Chinese cuisine. (Traditional Indian food usually doesn't include noodles.)
While there are dozens of cooks in each hawker center, most centers specialize in particular dishes or cuisines. At the center in Little India, I had rojak, a traditional fruit-and-vegetable salad. There are different types of rojak with Chinese, Indian, or Malay flavors, but the basic idea is that you select what you want in your salad, and depending on the items, it might be fried up or served fresh with sauces.
But what I loved most was how accessible it all was. Any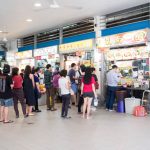 Singaporean I met was happy to share favorites or advice, the most valuable of which was to look for the stall with the longest line. InSingapore, that means it's the best food. 
As I walked through the city, I found myself stopping often to take photos of the colorful architecture. Having always thought of Singapore as a business city, I was surprised to see such distinctive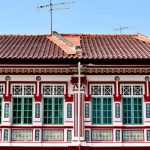 architecture — but that's my ignorance. Singapore is well known for its abundance of Peranakan facades and shophouses.
Peranakan Singaporeans are the descendants of Chinese immigrants who came to the city between the 15th and 17th centuries, eventually intermarrying with the indigenous Malay people. The distinctive culture that resulted is heralded in Singapore and can be seen in the colorful architecture, elaborate clothing styles, and unique food.
In Chinatown, I decided to do some souvenir shopping. Temple Street is the heart of the neighborhood. The shopping is nothing particularly special, but the shophouses are gorgeous, and it all makes for great photos.
I found better shopping the next day in Kampong Glam, a neighborhood sometimes called the Muslim Quarter because of its ties to the Muslim and Malay communities. The Masjid Sultan mosque is the gorgeous jewel at the center of the neighborhood.
After that, I headed to my second hotel, which was admittedly a big step up. I was staying at Marina Bay Sands, a landmark $6.6 billion megahotel featuring a casino, a museum, a shopping mall, and incredible views of the city and bay.
The Marina Bay Sands provided a perfect view of Gardens by the Bay, the futuristic park featuring more than 1 million plants, the world's largest glass greenhouse, and a grove of 160-foot-tall "supertrees."
In the afternoon, I headed there to see whether it lived up to the hype. Most people know about Gardens by the Bay because of the Supertree Grove: 12 tree-like structures that act as vertical gardens and range from 82 to 160 feet tall.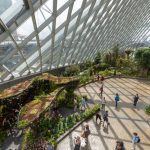 But the park's real stars are the biodomes, including the 129,000-square-foot Flower Dome and the 86,000-square-foot Cloud Forest. The Flower Dome is maintained to have a semi-arid, subtropical climate and features plants from places like the Mediterranean, California, Australia, Chile, and South Africa.
The Cloud Forest conservatory is smaller than the Flower Dome, but it may be more impressive. Its climate mimics that of mist-covered tropical highlands and contains 72,000 plants. You can walk on a skyway that encircles a 115-foot-tall "mountain" with the world's tallest indoor waterfall.
After seeing the biodomes, I headed to the Supertree Grove. The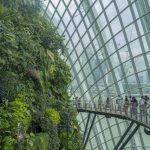 design of the supertrees is inspired by the karri trees of Australia and the magical forest in the classic Japanese film "Princess Mononoke." I walked along a suspended walkway that provided a vertigo-inducing view of the trees.
The "trees" are covered with 162,900 plants from 200 species on panels attached to the reddish trellises — this was my favorite view. The idea behind the trees is that the longer they are maintained, the denser the greenery will become. In 10 or 20 years, you won't be able to see any trellises.
On my last night in Singapore, I finally got a chance to check out the nightlife. Afterward, I was upset that I didn't go out earlier. The city has a burgeoning, creative cocktail scene that rivals that of New York or London. I started my night at the Spiffy Dapper. You've got to love a bar whose menu includes a guide to "bars better than us."
Speakeasy culture may be everywhere these days, but Singapore's cocktail bars stood out for their uniqueness, approachability, and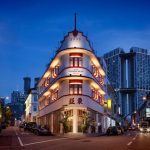 communal spirit. Every bartender I spoke to seemed excited to try a new concoction or recommend another bar I should visit. I particularly liked Potato Head, a three-story bar with beach vibes, eclectic decor, and great music.
By the time I left Singapore, I found that what I expected it to be — a cloistered metropolis of luxury shopping malls, casinos, and hotels — was light-years from the vibrant city I saw. While those elements are there, the real Singapore was accessible, colorful, and a ton of fun.
Comments
comments