Fabulous last minute gift ideas at Le Grand Comptoir!
Does President Emmanuel Macron realize he's a snowman in a globe with a bubble that reads, "Je ne suis pas Pere Noël" and that he's boosted sales in the concept store that sold out the first edition of the must-have Christmas tchotchke?
Snow globes are traditional gifts in France, emblematic objects of the holiday season, often placed at the foot of Christmas trees. So, the start-ups at Le Grand Comptoir decided to inject a bit of humor using the image of Macron with their ironic message. Read into it what you will.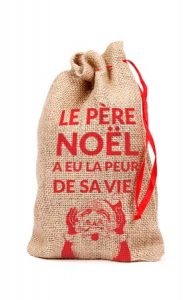 Need to Know:
Founded in 1992 – in Suresnes, a Paris suburb – by entrepréneur/style influencer Jacques Loyer, Le Grand Comptoir is a spacious Aladdin's cave (now labeled "concept store") where everyone finds that cute little gift, gadget, unusual groceries, or piece to decorate the home. Twenty five years after its creation, Grand Comptoir has expanded to six fascinating stores criss-crossing all generations, from lovers of lifestyle, to flâneurs in search of inspiration and the latest trends.
Look for the brands: Back to Alaska, Hackett, Best Mountain, Berenice, New Balance, Oakwood, Parajumpers, Bella Jones, Jack and Jones, Hero Seven, Sweet Pants, School Rag…
Track your snowglobes in all Grand Comptoir stores (Paris, Suresnes, Toulouse and Mouans-Sartoux). Price: €10.50