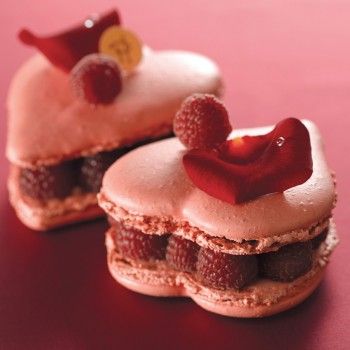 The Picasso of Pastry, Pierre Hermé, Paris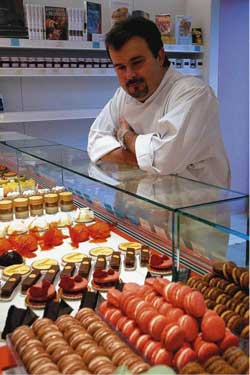 If the one you love deserves the finest quality available for this Valentine's Day, look no further than the celebrated creations of Pierre Hermé. Pierre was described by French Vogue as "The Picasso of Pastry." One glance at his brilliant creations and you can understand why. Treat your loved one to his visual delights and the fantastic taste of his creations by ordering online at his web site here.
Pierre Hermé is the kind of person you'd love to have in your life. He's a big, friendly, down-to-earth bear of a guy with the heart and soul of an artist and exquisite taste. His artistry is the kind that engages all of your senses, beginning with the irresistible aroma of the highest quality, freshly baked pastries, crunchy, creamy macarons and gorgeous hand-made chocolates. When you visit one of his shops in Paris, you'll see attendants in white gloves handling Hermé's creations as if they were priceless jewelry.
Celebrated as one of France's greatest and most prolific pastry chefs, Pierre was not only the youngest person ever to be named France's Pastry Chef of the Year but is also the only pastry chef to have been decorated as a Chevalier of Arts and Letters. Of his art, Pierre says, "I consider the creation of pastries as an Art with a capital A, in that it is a true form of expression, just like music, painting, or sculpture. At the core, pleasure is my only guide."
For the ultimate pleasure on Valentine's Day, take your romantic feelings to the highest level with the exquisite, world-renowned edible treasures of Pierre Hermé. Available online for international delivery here.
Comments
comments