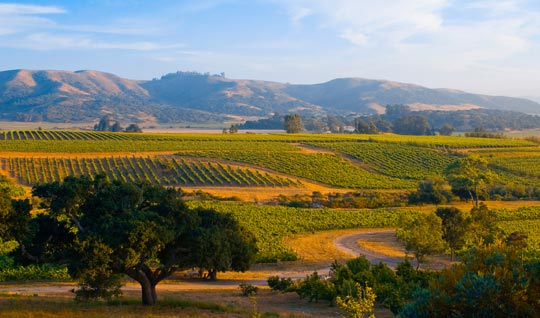 Make the most of your summer
in the heart of Sonoma Wine Country 

Sunday Brunch in Healdsburg, CA
Sonoma Wine Country
As you make plans for the summer, picture yourself in a lovely tree-shaded central square reminiscent of an old-fashioned A
merican country town, combined with the ambiance of the European countryside.  Home of upscale shops, restaurants, places to stay and summer concerts, Healdsburg fulfills your special summer get-away dreams perfectly.
Tucked between three lush valleys and surrounded by over 60 wineries, Healdsburg is nestled in the heart of the California wine country only 65 miles north of San Francisco. Easy to get to right off US Highway 101 in northern Sonoma County, when you long for small town charm, with big city sophistication, head for Healdsburg.
Wine enthusiasts already know of Sonoma County's famed wineries and 13 distinct wine-growing areas that allow vintners to produce a stunning array of award winning wines. With more than 250 wineries, miles of rugged Pacific Ocean coastline and some of the most fertile earth in California, Sonoma County embodies the organic, natural and tasteful life that typifies the wine country.
Barndiva – Restaurant, Bistro, Bar, Art Gallery
At the very center of it, Healdsburg's Barndiva pulls it all together with sumptuous food and wine, casually elegant dec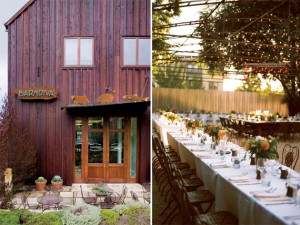 or and an art gallery to enhance your dining experience.
Ryan Fancher, Their
Extraordinary Chef
Following a remarkable culinary journey that included working with Richard Reddingt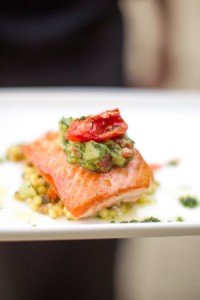 on at Auberge de Soleil,  he cooked alongside Thomas Keller at The French Laundry and then at Per Se for four incredibly rewarding years. 
Ryan moved to Healdsburg six years ago with the goal of taking Barndiva's unique dining concept to the next level, which he most certainly has done. In the summer of 2015, he and sous chef Andrew Wycoff helped launch Barndiva bistro in the art gallery, Studio Barndiva. He works directly with small farm and ranch purveyors, many of whom raise animals and contract plant for the menus. He is instrumental in directing what is grown for the restaurant on the Greenwood Ridge. Go to Barndiva's website here.
The Pursuit Of Perfection In Yountville
Thomas Keller's French Laundry,
The only American chef to win three Michelin stars for two restaurants
simultaneously, Thomas Keller is a renaissance man of food. Owner of 13 restaurants on two coasts, including Napa Valley's landmark French Laundry and Manhattan's Per Se, he has sold half a million copies of his "French Laundry Cookbook," designed porcelain and silver for renowned French firms, and cooked (and plated) the climactic title dish for Pixar's animated film "Ratatouille." He and his landmark Napa Valley restaurant, The French Laundry in Yountville, California, is a perennial winner in the annual Restaurant Magazine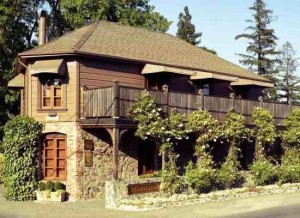 list of the Top 50 Restaurants of the World.
During his first meal at The French Laundry, an astonished Anthony Bourdain exclaimed, "Keller dazzles on every level, physically and emotionally. I almost feel like weeping. The experience is absolute perfection" To which Keller replied, "Perfection is something you never actually attain, it's only something you search for. What makes me happy is making you happy."  Memor
ies are what Mr. Keller strives to create for you with all of his sumptuous food service and environments. A perfectionist at every level, Keller says, "I'm a nurturer at heart." You can feel and taste it at every step along the way.
Some overwhelmed diners have described Thomas Keller's imaginative, exquisite cuisine as, "A religious experience." Arousing such an emotional response is at the core of Thom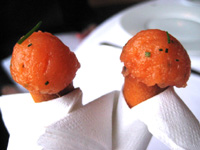 as Keller's cooking.  Based on the traditional classic techniques of French cooking combined with his American sensibility and artistic vision, each course provides just enough to surprise, delight and leave you wanting more. The chef's tasting menu is a symphony of many, many small courses of intensely flavored items. Attention to detail and obsession for excellence are reflected from start to finish in the impeccable servi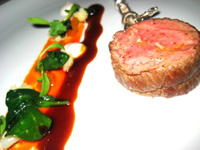 ce and exceptional food.
In 1994, Keller took ownership of The French Laundry in Yountville, quickly garnering nationwide acclaim. His French bistro Bouchon debuted down the street in 1998, with Bouchon Bakery following five years later. He now has eight restaurants and two bakeries in the United States, including his home-style restaurant Ad Hoc also located in Yountville, Per Se and Bouchon Bakery in the Time Warner Center in New York City, and outposts of Bouchon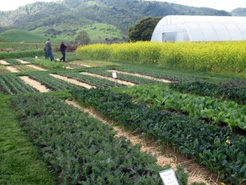 and Bouchon Bakery in Beverly Hills and Las Vegas. Almost all the fresh, organic ingredients for his famous French Laundry fare are grown in the backyard garden of the restaurant. 
He began his culinary career at a young age, working in the Palm Beach restaurant managed by his mother. He relocated to France in 1983, where he worked in several Michelin-starred houses including Guy Savoy and Taillevent. He opened his first restaurant, Rakel, in New York City in 1986, and then moved westward to California to work as the Executive Chef at the Checkers Hotel in Los Angeles.
Renowned for his culinary skills and his exceptionally high personal standards, Keller places a high value on genuine collaboration and has successfully assembled an expert staff that shares his philo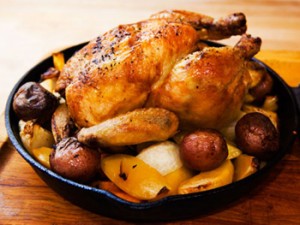 sophy and vision, enabling him to concentrate on his many varied interests. He is the author of the award-winning "The French Laundry" and "Bouchon" cookbooks, as well as "Under Pressure," on sous vide cooking. His most recent release is a book of family-style recipes titled "Ad Hoc at Home." The book has received awards from both the IACP and the James Beard Foundation and has appeared on the New York Times Best Sellers list for 6 weeks. Thomas Keller embodies the spirit of hospitality in everything he turns his talents to. He describes it as something innate, that comes from inside, from the heart…soulful.
If you're a very ambitious cook, then his books will give you the recipes for making the amazing dishes served in his restaurants. They're quite involved and complicated, but Keller's own favorite dish, roast chicken is by far the easiest to achieve. It's one you can prepare and serve at home for your own Sunday brunch. Find out more about Thomas Keller and his restaurants, bistros and bakeries here. 
Comments
comments