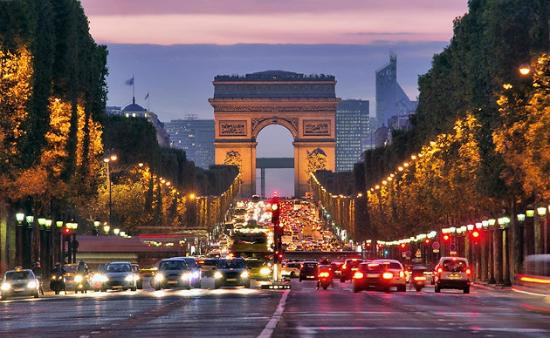 Some Sunday as you stroll down a quiet, narrow side-street, in an artsy district of Paris, you'll find a building with an unassuming flat beige exterior. It's a deceptively bland prelude to a vibrant experience, the Sunday Jazz Brunch at Le Réservoir. 
Go through the door and voilà, as in a fairy tale, you're instantly transported to an Italian Renaissance fantasy. With its neo-baroque red and gold décor, wrought iron lighting, gilt furniture, mirrors, candles, and original art, Le Réservoir surrounds you with energy, warmth, cool people, fine dining and live music. On Sundays, for brunch, the food is a seemingly endless array of exquisite dishes on an unlimited buffet and the music is jazz from Parisian and international artists.
Le Réservoir is located in the exciting and eclectic 11th arrondissement, within walking distance of the Bastille and the new Paris Opera. In this charming district that was the birthplace of the French Revolution, a new revolution has taken place in recent years. It's one that has transformed the area from being the heart of working-class Paris into one where you'll encounter a creative haven for emerging artists, graphic designers, web entrepreneurs, hipster fashonistas, galleries, fashionable cafes and restaurants and trendsetters of every ethnicity and age. 
This Bohemian-chic area is one of the most densely populated urban districts of the French capital and in fact, all of Europe. Lively streets and quiet alleyways that had housed woodwork and cabinet makers since the Middle Ages are now home to wonderful places to shop, dine and enjoy entertainment.  With its lovely relaxed local atmosphere this district is less touristy than other areas of Paris, allowing you to savor its excitement and laid-back charm in proportions to suit your taste.
When it come to taste, Le Réservoir's Sunday Jazz Brunch satisfies the most discriminating. Mary de Vivo, a well-known member of the Paris music scene and manager of Le Réservoir has created an eclectic menu that prides itself on fresh produce, and contemporary organic cuisine that features a generous, global mix, including lobster in chartreuse with pear, rice and passion fruit vinaigrette, mountain hay-cooked canon of lamb with juniper gravy and dried fruit pancake.
From couscous to croissants; eggs to sausage, homemade tzatziki to pasta along with various seafood and meat platters, there is something for everyone: red tuna tortilla, scallop and anchovy snacks, filet of duck served on a slab of slate with raisins and nuts and more. If you're a vegetarian there is plenty for you here too. Save room for the extensive desserts and cheese or maybe a crepe or torte will tantalize your taste buds. The menu philosophy is, "Fresh produce, respectful cuisine, passion, love and hard work."  Brunches are offered every Sunday from 11:30 to 4:30.
Le Chic Picnique
Sunday Jazz Brunch Outdoors In Paris
Paris Picnic started as an idea between friends Katya Kroupnik and Patrick Johnson who enjoy picnicking in the world's most beautiful city. Whether picnicking along the Canal St-Martin or under the Eiffel Tower, up in hilly Buttes Chaumont or in one of the countless parks that span Paris from the Bois de Boulogne to the Bois de Vincennes, you'll find it's easy to feel that Paris was made for le pique-nique, customized for your own smooth jazz Sunday brunch. Paris Picnic takes care of the food, drink and amenities, you bring the music.
By partnering with artisanal food and wine producers around France and offering free delivery to select locations across the city, Paris Picnic simplifies the process of planning and arranging a picnic. Just select your picnic, delivery location, and allow them to provide you with a delicious, unique and convenient experience.
When it comes to your picnic, they've thought of everything so you don't have to. This means all  picnics come with a cotton picnic blanket (yours to keep) and all the utensils needed to properly enjoy a picnic. Each of their picnics also includes a wide selection of market-fresh foods, so they guarantee you won't leave hungry. Whenever possible (and it's usually possible), they source their food and packaging materials from organic and sustainable sources. Picnics are delivered in paper sacs that can be reused as garbage bags following the picnic.
It's easy to order. Just check out their order page, where they detail four main offerings. E-mail Katya at katya@parispicnic.com and she'll work with you to make it happen! After placing an order on their website, you'll receive an automatic e-mail confirmation. They'll then follow-up 24-48hrs before to confirm the picnic time and location. If you have any questions in the meantime, you can always contact them via e-mail or phone at +33 7 81 35 13 21 .
Normal delivery hours are between 11h30-21h30 daily. They can instantly confirm delivery to the Champ de Mars (Eiffel Tower), Tuileries Gardens, Square du Vert-Galant, or Place des Vosges (when you place your order on their website, these four locations are highlighted on their delivery map). Contact them about your Sunday brunch picnic and they'll help you figure out the time, place and type of spread to meet your needs, including set-up, cleanup and even photography. English, French and Russian is spoken. Visit the Paris Picnic website here. Bon appétit!
Sunday Jazz Brunch in Paris
Now that Sunday Jazz Brunch has become chic in Paris, there's no shortage of wonderful places for you to enjoy it. Among the best is the warmly colorful L'Orenoc restaurant in the hotel Le Meridien Etoile. Under the guidance of master Chef Eric Brujan, L'Orenac delivers daring and boldly delicious gourmet world fusion dishes by integrating flavors of the world with the products ofFrench cuisine. Perhaps you'll have baked organic chicken with Asian vegetables, red curry and Thai basil served in a coconut shell with spiced rice. Or how about avocado and coriander millefeuille and Lebanese tabbouleh with blue poppies and pink peppercorn oil? Or the brunch standard the world over, served with Parisian style, free-range poached egg benedict with a side of asparagus. A couple of these desserts will top it off: Half sphere of passion fruit and white chocolate, exotic fruit minestrone, crisp tuile biscuit or maybe pistachio parfait with nougatine, and fresh raspberry.
Equally exciting is Le Meridien Etoile's long association with the world of jazz. One of the most famous jazz clubs in Paris since 1975, the Jazz Club Etoile has featured some of the biggest names in straight-ahead and contemporary jazz. Its prestigious stage has hosted, among others, Dizzy Gillespie, Cab Calloway, Dee Dee Bridgewater, Claude Bolling, Oscar Peterson, Fats Domino and Diana Krall. In early the 80's, the club was among the first to bring big names in soul and blues to Paris, acts which later included Ike Turner, BB King, Screamin' Jay Hawkins and Mighty Mo Rodgers. The Jazz Club Etoile stage is now open to Jazz Funk, Funk and World Music. This jazzy vibe is part of the atmosphere at Le Meridien Etoile and it permeates their Sunday brunch, with a live jazz group enhancing your fine dining experience.
Strategically located within walking distance of the Arc de Triomphe and the Champs-Elysees, it's easy to combine your Sunday brunch at L'Orenoc with sightseeing, shopping or business and social events. If you indulge as fully as possible in this lavish brunch, you'll be doubly glad to be in la belle Paris, one of the best and most satisfying walking cities in the world. Jazzy Brunch at L'Orenoc at Le Meridien Etoile takes place every Sunday from 12.30pm till 3.00pm with a musical trio. Price: 55€ (tea, coffee, orange juice included). There is an extensive French wine menu. Weather permitting there's also a lovely outdoor dining patio to add to your pleasure. Bon appétit.
Comments
comments