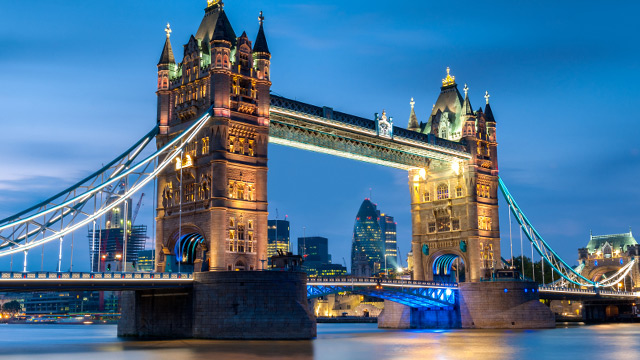 The Royal Treatment At Sunday
Champagne Jazz Brunch in London
If you ever wanted to be treated like royalty, the place to go is the Savoy Hot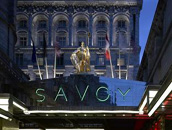 el in London. The Savoy evokes the ancient and grand tradition of quality and luxury reserved for kings and queens. It has, in fact, hosted everyone from George VI, Queen Elizabeth, Princess Diana and Prince Charles to Frank Sinatra, Sophia Lauren, Bob Dylan, the Beckhams and many of the most high profile people in the world for more than a century.
The Savoy combines its regal heritage with a history deeply rooted in entertainment and music. Built by impresario Richard D'Oyly Carte with profits from his Gilbert and Sullivan operas, the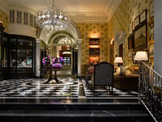 hotel opened in 1889 and later became London's center for the Jazz Age. George Gershwin gave the British premiere of "Rhapsody in Blue" at the hotel in 1925. LenaHorne and other international stars made their British debuts there. More recently, Amy Winehouse entertained guests.
If you've seen the movie, "My Week With Marilyn," starring Michelle W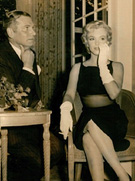 illiams, you know it told the story of  filming "The Prince and the Showgirl" in London. Marilyn Monroe and Sir Lawrence Olivier had publicity shots for that film taken at the Savoy. 
Only recently has London become known for fine dining. But from the beginning, at the Savoy, exquisite cuisine was the hallmark of the hotel's popularity among the sophisticated of the world. The Savoy's first Executive Chef was the legendary pre-eminent French chef, Auguste Escoffier. At the revived Rive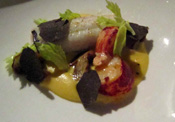 r Restaurant Head Chef, James Pare, has drawn inspiration from the glorious history of this dining room and pays homage to Auguste Escoffier with a modern French menu using the best  local produce.
You'll find the Savoy's Sunday Champagne Jazz Brunch in the River Restaurant an exciting dining experience, in an Art Deco – influenced setting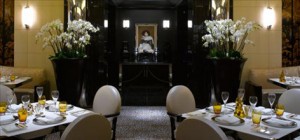 with an inspiring view of the River Thames. Along with the timeless and elegant decor, the Champagne Jazz Brunch offers you a wide variety of dishes, including the classics Eggs Benedict and Eggs Florentine. Then venture further a field with salmon royale, goat's cheese & braised tomato frittata, country pate spiced with apricot chutney and caramelized cashews, Sunday roast rib of beef with roast potatoes, carrots,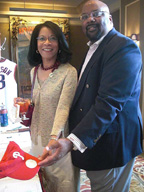 green beans and Yorkshire pudding, red wine risotto with seasonal mushrooms, parmesan cheese and summer truffles, and lamb cutlets Provençale potato mille feuille, brussel sprout leaves and whisky jus, to mention a few. Leave room for dessert and try the chocolate brownie with rich chocolate sauce and vanilla ice cream, Apple yogurt pie cinnamon caramel with fresh cream or for a real English treat Treacle tart with clotted cream ice cream. All of it is accompanied by unlimited champagne, Bloody Marys and live jazz. The Savoy's Sunday Jazz Brunch is a truly magical way to enjoy your stay in London to the fullest.
Indian Sunday Jazz Brunch in London
Willow Smith, her older brother Jaden and her mom
Pinkett Smith, with teen heartthrob Justin Bieber can tell you all about La Porte des Indes restaurant, where they dined together recently during the time Willow and Justin were performing together in London.
La Porte des Indes literally means gateway to India and this award-winning, upscale restaurant specializes in the kind of cuisine and ambien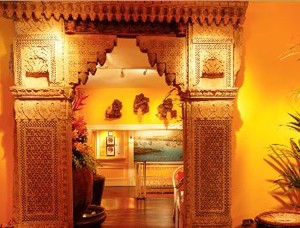 ce that warms your soul and transports from damp, chilly London to the exotic, sunny land of curries and spices. Housed in a former Edwardian ballroom, the restaurant is adorned with antique Indian artifacts and boasts a stunning white marble staircase, 40-foot Mogul waterfall, Jungle Bar and private rooms. Exotic plants and flowers fill the light and airy interior with their alluring scent and provide a visually stunning display as the perfect backdrop to the equally impressive food.
The mainstay of the menu is the Gallic influenced dishes representative of Pondicherry, a former French colony in India dating back to the 19h century. Executive Chef Mehernosh Mody spent several months in Pondicherry researching the traditional cuisine of French-Creole communities, and persuaded them to part with some of their closely guarded family recipes. These "grand dames" of Pondicherry gave him a unique set of original recipes; some very French, some Tamil and others typically Creole.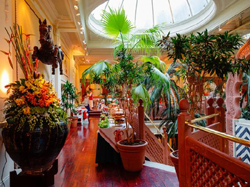 The resulting menu gave birth to a unique culinary experience, a taste of the traditional cuisine of the Indian sub continent and specialties of Pondicherry, including Crevette Assadh, a sort of prawn curry; Bombay potatoes; Swiss Chard and Water Chestnut Pakoras.
From street food stalls to face painting, the Sunday Jazz Brunch at La Porte des Indes gives you unlimited servings of over 20 dishes with a fantastic array of starters, main courses, salads, soups, sumptuou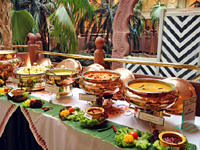 s desserts and potent, colorful drinks accompanied by jazz. When in London enjoy the jazz brunch at La Porte and you'll have a dining experience that transcends the tried and true and gives you the best that the vibrant multi-cultural London restaurant scene offers. You can experience this exciting cuisine and atmosphere at the Sunday Jazz Brunch at La Porte des Indes for £30 per person. Reservations recommended.
Comments
comments