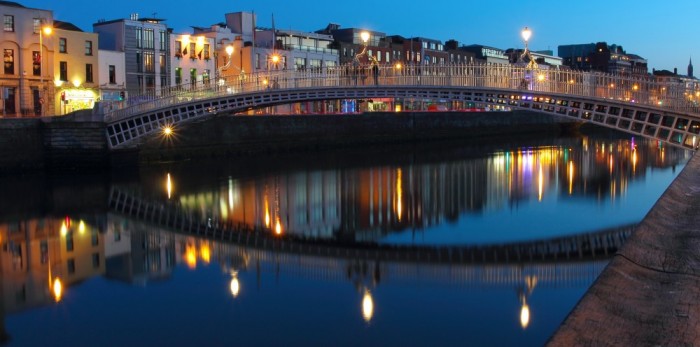 A Taste Of France In Dublin, Ireland
Café en Seine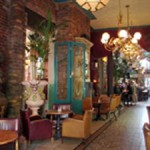 It's far from your typical Irish pub, but Café en Seine in Dublin gets the nod from many as the best bar in the city, with the coldest beer in Ireland, and that's saying a lot around this town. With its breathtaking architecture and over-the-top French decor the soaring interior of Café en Seine will amaze you with its three storied atrium culminating in beautiful glass-paneled ceilings, 40 foot trees, enormous art nouveau glass lanterns, and statues among its many gorgeous and intriguing features. It's a glamorous and fun setting for any occasion, but an especially festive one for celebrating St. Patrick's Day.
You can enjoy a laid-back café style experience by day with a selection of hot dishes, delicious soups, gourmet sand
wiches and baguettes along with an excellent selection of coffees and delicious pastries. By night, Café en Seine turns into one of Dublin's most stylish bars offering an extensive range of cocktails and  beers and great music entertainment. On Sunday there'
s Jazz brunch from noon to 5pm.
The Sunday brunch menu includes classic Eggs Florentine, traditional fish and chips, brioche French toast, stuffed field mushrooms, a crispy potato fish cake and a bourbon vanilla crème brulée. The extensive bar will provide you with just the right libation, whether it's an ordinary Sunday or the very special one for St. Patrick's Day.  The Café en Seine jazz trio sets the relaxed mood for this casual and sophisticated jazz brunch in the heart of Dublin's stylish Dawson Street.  There's no better way to capture the spirit of the Irish on March 17th or any other Sunday than at the Sunday jazz brunch at Café en Seine. For more info check out their website.
Comments
comments