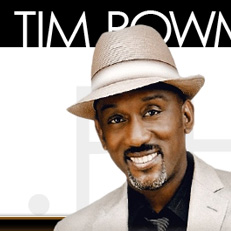 Guitarist Tim Bowman
The Motor City is a perfect place for an aspiring musician to cultivate a sound different from any other. From his early days playing the guitar in church to formal training as a young adult, Tim Bowman pulled from a multitude of influences and created a sound that infuses gospel, blues, R&B and jazz. Since Bowman hit the jazz scene in 1996, he has been winning rave reviews and garnering ubiquitous smooth jazz radio airplay. His debut album, Love, Joy, Peace, album peaked at 19 on the Gavin Smooth Jazz Charts and 20 on Radio & Record Magazine's album chart in the spring of 1997. Bowman's follow-up projects Paradise and Smile both received widespread media attention and great reviews from industry insiders and music enthusiasts, alike. In 2004, Bowman released This is What I Hear. In his fourth collection, Bowman surpassed the success of all of his prior albums with his smash #1 single, Summer Groove.
The release of Bowman's fifth album (2008) increased his momentum. The self-titled release featured hit songs Sweet Sundays (#1, Billboard Smooth Jazz Singles Chart), High Def, and Rapture featuring saxophonist Najee. In 2010, Bowman released The Collection, showcasing some of his finest work and highlighting the unique depth of his ability as a talented songwriter. The Collection features three new tracks, All My Life, his Jazz radio smash Let It Shine (#1, Billboard Smooth Jazz Singles Chart), as well as the uplifting Gospel offering My Prayer, My Praise.
His latest single, Seaside Drive, was another crowning moment for Bowman; reaching #1 in the country. Bowman is currently gearing up for the release of his next full-length album, set for 2015. In a career spanning decades including a considerable list of number #1 records, Tim Bowman has proven that his smooth, unforgettable sound is here to stay.
Comments
comments