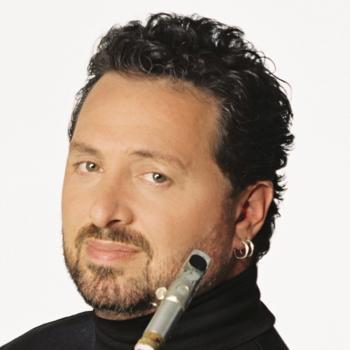 Saxophonist Richard Elliot
Saxophonist Richard Elliot has arrived at a very special anniversary for blowing audiences away with his soulfully robust playing. 2014 marks 30 years since the release of his debut solo album, Initial Approach (ITI – 1984), on which he stepped out showcasing his tenor sax, soprano sax, Lyricon and writing skills. What does a red-blooded Scottish sax man raised in Los Angeles – now with a wife and five children – do for a 30-year encore? Well, this one-time member of the classic soul band Tower of Power proves he's "not a young man" and drops the most overtly sensual, romantic and intimate album of his career in collaboration with contemporary jazz production/guitar giant Paul Brown. The title of this 17th solo project is Lip Service (the artist's first for Heads Up/Concord Music Group).
The 10-song Lip Service features seven all new original compositions with teasing titles such as "Sookie Sookie" and "All the Way," as well as three choice covers of soul and pop hits from the '80s ("Shining Star" by The Manhattans), the '90s ("Anytime" by Brian McKnight) and today ("When I Was Your Man" by Bruno Mars).
"It's not a radical departure," Elliot says with a chuckle, "just a softer edge. The intensity is still there, just channeled in a different way. I've been madly in love with my wife Camella for 20 years (courtship and marriage combined). Romance has always been an important part of our relationship. With five children, there's never a dull moment in our home but we always take time away for us…something we never had to work at. It just gets better every year – and that's not Lip Service!"
Two-time GRAMMY Award-winning record producer Paul Brown also influenced the dim lights/rising passion direction of Lip Service. "I have to give credit for the seed of that concept to Paul," Elliot admits. "The first time I ever worked with him on a full project was for my album Jumpin' Off (Metro Blue – 1997). Prior to that, I was a guest on records he produced by Peter White and others. We maintained a great relationship. Recently we got reacquainted on Dave Koz's Summer Horns. Toward the end of recording when he found out I was about to start on my next record, Paul threw out the idea of me doing something more romantic. Everything that I do has to apply on a personal level or else I can't feel connected. So I thought about it, decided this concept worked perfect for me and we had a great time."
"My records tend to be potluck things," Elliot continues, "constantly shifting in terms of feel: some hard things, then some soft. Not to say that I haven't used concepts. Metro Blue (2005) was a Euro-Funk thing. Rock Steady (2009) was a tribute to my influences growing up, which was all about R&B music. Lip Service is a different deal. We definitely slowed it down a bit."
A Southern Californian to the core, Elliot commuted on L.A.'s notoriously choked 405 Freeway to get this job done. "I feel naked if I don't have my car. I do a lot of creative thinking when I'm driving – gathering thoughts in terms of direction. I live in San Diego so I would make the pilgrimage to L.A.to work in Paul's studio – braving the traffic, chilling for a minute then jumping into it. We'd have 'song starts' from folks like Jeff Carruthers, then I would put melodies to them using Paul as that all-important sounding board. Together we were literally writing melodies while we were recording." Another standout is the evening driver "City Lights," which was brought in by New York-based keyboardist Bob Baldwin. "I've known Bob for years and love his music," Elliot states. "This one had such a nice vibe and is a departure from the rest of the record. It's got a romantic, night time feel but reminiscent of classic contemporary jazz stuff. It felt really good."
One point Elliot hopes to get across is that an album soaking in an aura of romance doesn't have to be solely about sex. "We didn't want everything sounding like a hot and heavy Minor 7th vibe. Playfulness is good, too. 'Sweet Spot' (a warm wave of guitars and sax intoxication) and 'Givin' it Up' (a gentle rock steady groove) have that aspect." The opening number "Desire" laid the blueprint for what Elliot and Brown sought to capture. "That song morphed through a bunch of iterations. It set the tone of the record with a Latin feel. When you're searching for a sound, there's a tendency to throw a lot of stuff at a song from a production standpoint. Instead, we pulled stuff out of 'Desire.' Minimalist from an arranging standpoint, the more air and space there was created a better canvas for my saxophone."
The cover songs are all inspired choices, each challenging in their own way. The Manhattans' "Shining Star," which Richard suggested, is given a bluesy feel with a horn arrangement by Tower of Power veteran Greg Adams. Brian McKnight's "Anytime," closing the album in lovingly layered afterglow, was suggested by Brown, arranged by keyboardist Tracy Carter and temporarily intimidated Elliot. "I thought to myself, 'Best not to overanalyze.' We got the arrangement together, cut the rhythm section then I had a glass of wine, took a deep breath and dived in."
Poetically, the remaining cover of Bruno Mars' "When I Was Your Man" was suggested by Elliot's wife. "Camella said, 'You have to listen to this!' I've loved that guy since he started. His roots clearly come from Soul music and bands like I was, and he's worked hard for years to get to where he is now. So, naturally, I feel an affinity with him. I was already familiar with the song and Camella's got a really good intuition for songs like that. She reminded me that I recorded 'Over the Rainbow' with just sax and piano (from On the Town – 1991) and it was one of the biggest songs on the album. I ended up using acoustic piano with just a bit of B3 organ (both played by Lew Laing). Then I went through a bunch of versions of my performance 'til we got something straddling the fence between sensitive and having some intensity."
Slow burning intensity has been Richard Elliot's stock-in-trade since debuting as a member of the novel Chapman Stick-based quartet Kittyhawk in 1979 at the age of 19. With influences ranging from Grover Washington, Jr. to John Klemmer, his broad range of saxual expression knows no bounds. He has topped charts and toured the world as a leader as well as with the innovative groups Guitars & Saxes and Summer Horns (Mindi Abair, Gerald Albright and Dave Koz), the latter of whom he'll be on the road with all summer 2014 (debuting a selection or two from Lip Service) before continuing on with his own shows in the fall. It's the unabashed excitement from concert fans that drives him to this day.
Looking back on the 16 solo projects that led to Lip Service, Elliot concludes, "I've never counted my albums. I tend to do a record every year-and-a half or two. It just goes by so quickly. I still love what I do. Recording is a fun yet arduous process… but I never get tired of playing live. I always say I play my concerts for free and get paid for everything else I have to do the other 23 hours of the day! It's a privilege to play music for a living…and I never take a gig for granted."
Comments
comments