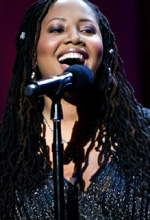 One Of A Kind
It's impossible to hear the thrillingly warm, husky voice of Lalah Hathaway without thinking of her famous father, the late Donny Hathaway. Not only because she sounds so much like him, but because she considers herself the keeper of the flame of her soul-royalty heritage. But Lalah's not riding on the reputation of the previous generation, she's extending it. Lalah says, "Like my father, I want to leave a legacy of music that makes people really feel something, whether it be happiness, sadness, grief or heartache."
When you see her perform or hear her recordings you know she's doing just that. Like aged, fine wine, her voice gets better with time along with her interpretive skills. Considered by many to be one of the finest adult contemporary vocalists of the 2000s and 2010s, her stage shows are delivered with poise, confidence and the effortless ability to combine jazz, soul and R&B in her own deep-spirited, original way.
In 2008 she received a Best Female R&B Vocal Performance Grammy Award nomination for "That Was Then;" then "The Song Lives On" became one of Hathaway and Joe Sample's most successful albums; and Hathaway and Sample were honored with Billboard/BET On Jazz Award for "Mainstream Jazz Album."  In December, 2009 she won the Song of the Year award in the SoulTracks Readers' Choice Award for her duet with D.C. singer Eric Roberson, "Dealing." 
In our conversation you'll hear her independence and honesty, gentle humor and familial pride wrapped up in the beautiful package that is the one-of-a-kind artistry of Lalah Hathaway. Click on the player above to hear it. Visit her website here.
Comments
comments