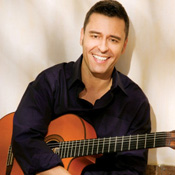 Bringing The Heat From Up North
Born and raised in Toronto, guitarist Rob Tardik is a warm-hearted, jammin' artist who represents the best Canada has to offer. His Flamenco influenced, fiery playing belies his chilly Northern heritage. Named 2010 Canadian Smooth Jazz Guitarist of the Year, Tardik delivers highly polished, fluid, melodic tunes rich with rhythmic hooks that seduce your soul and move your hips.
An industry veteran, Tardik has shared the stage with Paul Brown, Phil Ramone, Greg Adams, Peter White, David Sanborn, Jose Feliciano and more. You may have seen him perform at one of the many venues he's played in North America, among them: The 2010 American Smooth Jazz Awards at the DuSable Museum in Chicago, Queen Elizabeth Theatre in Toronto, Spaghettini Grill and Lounge and Anthology in California and at the Toronto International Film Festival.
A duet with Paul Brown, "East Meets West," stayed on the Billboard chart for 20 weeks with radio play worldwide, his second single, "Shakin' The House" continues on the Billboard chart, and in 2011, his third album B.E.L.L was among the Top 10 CDs listed in Smooth Jazz Magazine. His newest CD, "Limitless" continues the positive theme established by his previous work, with silky smooth compositions performed with heated intensity. Click the player above to hear Rob Tardik share his inspiring vibe in our exclusive conversation with music. Visit Rob's website here.  
Comments
comments