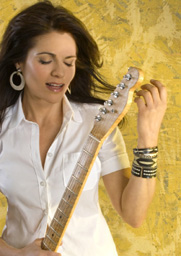 Guitarist Joyce Cooling
True To Herself
When something that's worked for years – a job, relationship, skill, or point of view –  is challenged, jazzy people start improvising, creatively coming up with new ways to be true to their own unique voice, reinventing themselves and living their lives from that truth, no matter what anyone thinks. The result is renewed energy and purpose that inspires the rest of us. Such is the case with Joyce Cooling, one of the most dynamic and popular contemporary jazz guitarists in the world. Currently taking a sabbatical from her thriving musical career, Joyce is devoting herself to the kind of soul-searching and truth-seeking that she feels is necessary to live a life of integrity. Part of it has to do with getting around to educating herself about music. She was so eager to get up on stage and play when she started out that she never learned to read or write music and doing so now has become a priority.
As an underage teenager she prowled outside Manhattan's jazz clubs for a chance to hear the music she loved. A self-taught musician, Joyce learned to play by ear, inspired by diverse music luminaries, with Wes Montgomery at the top of the list. She accepted no musical boundaries and to much acclaim and success developed a style that incorporates elements of jazz, Brazilian, pop, R&B and world music with funky grooves and a laid-back polish that pleases a lot of people.
After she moved to San Francisco from the New York area Joyce became one of the Bay Area's most popular guitarists. When she met her musical partner, keyboardist Jay Wagner, her life and sound fell into place. Cooling's following of avid fans has expanded well beyond the Bay Area with a career that includes seven albums – five of which charted on Billboard. She has to her credit two No.1 radio singles, six top 10 and 13 charting singles in all, and has garnered multiple music awards including the Gibson Best Jazz Guitarist of the Year and Best New Talent in the Jazziz Reader's Poll. She was a nominee for the California Music Awards, the Oasis Awards and the Gavin Contemporary Jazz Artist of the Year. She continues to be an international attraction at major jazz festivals around the world.
She's the kind of woman you'd want as a friend – honest, straightforward, with a brave, kind heart and plenty of thoughtful insight. Guitarist Joyce Cooling has made a habit of following her inner compass for most of her life and she continues to do so to this day. She talks with us about what matters most to her and her adventurous new road ahead. You can hear the wide-open conversation with music with Joyce Cooling by clicking on the player at the top. Check out her website here.
Comments
comments