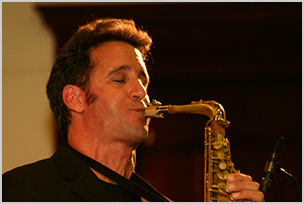 Home for the Holidays
With the Marienthals
Most of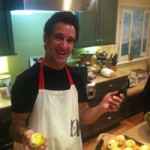 the year sax virtuoso Eric Marienthal travels the globe with performances that thrill his thousands of fans from Shanghai to Sao Paolo. But when December rolls around, you'll find him at home all month in Orange County, California with his wife LeeAnn, their two children Robert and Katie, and a huge family that gathers for their annual holiday celebrations.
The highly acclaimed Marienthal is frequently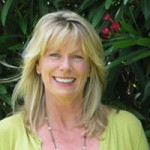 lauded for his musical discipline, versatility and awesome artistry. He applies those same talents to a sentimental love of family-and-friends during the winter holiday season. He and LeeAnn go all out to make Christmas special for themselves and others, basking in the warmth of the occasion on Christmas day only after weeks of grueling work to make the day memorable for everyone they know and care about.
Above and beyond the dedicated and massive gift buying, card mailings and decorating is one tradition the Marienthals have created that outdoes them all. Years ago LeeAnn discovered a recipe for cooking up a delicious, aromatic spiced pear jam, whose fragrance wafts through their home announcing with seductivesubtlety, that Christmas-time is here. Every year Eric and Lee Ann make about 150 jars of this hand-made-with-love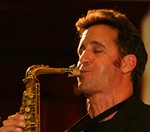 ambrosia. If you know the Marienthals you've probably been a recipient of a treasured jar of their jam that soothes the soul and taste-buds and ushers in the holiday spirit for themselves and so many others.
LeeAnn, whose own artistry is expressed as a landscape designer in her own, featured-on-HG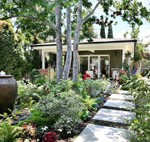 TV company, LeeAnn Marienthal Gardens, knows how to make your home beautiful, colorful and welcoming. That same sensibility applies to her own home and family with a keen eye and ear to what creates harmony and makes people happy. This is especially so at the holidays when she and Eric team up for their annual spiced pear jamboree. She affectionately describes Eric as the "fastest pear-chopper in the world." It's an honor he values as highly as the many he's racked up as one of the world's finest contemporary jazz saxophonists.
Click on the player above to hear the fun, funny and insightful conversation about Eric's music, LeeAnn's gardens and their holiday traditions. Getting to know the Marienthals at home for the holidays is a glittering gift you can unwrap right now. For more information about Eric's music and touring schedule visit his website here. To make their jam for your own holiday see the recipe below.

The Marienthal's Christmas Spiced Pear Jam Recipe
This recipe makes 7 cups of jam to fill seven 1/2-pint canning jars or other gift containers.
3 pounds of fully ripe pears (6 to 7 Comice pears) to make 4 cups of prepared fruit
3 tablespoons fresh lemon juice
3/4 teaspoon ground cinnamon
1/2 teaspoon ground allspice
1(l-3/4 ounce) package Sure-Jell powdered fruit pectin
l/2 cup white raisins brought to a boil in 1/3 cup red wine (optional)
5 cups sugar
7 or 8 cinnamon sticks, 2 to 3 inches in length (optional)
Peel, core, and chop or mash the pears. Measure 4 cups of fruit and place in a 5 to 6 quart
heavy saucepan. Stir in the lemon juice, cinnamon, allspice, Sure-Jell, and the optional wine-soaked
raisins. Bring to a hard boil. Add the sugar all at once and bring to a full rolling boil that you cannot
stir down. Let boil hard for 1 minute, stirring constantly. Remove from the heat. Skim and stir the
jam for 5 minutes to cool slightly. Place a cinnamon stick in each glass, if desired, and pour the jam
into containers to within 1/8 to 1/2-inch of the top. Seal, if desired, or cover and refrigerate. Let
cool undisturbed.
TO PREPARE IN ADVANCE: If vacuum-sealed in canning jars and stored in a cool, dark place,
the jam will stay at peak quality for up to six months. Sealed with paraffin, it will keep for two
months. It may be stored indefinitely in the refrigerator. Refrigerate the jam after opening.
SPECIAL PACKAGING: Canning jars are ideal. Any kind of small serving dishes or condiment
jars would be suitable.
THE LABEL: If the jam is vacuum-sealed, the label should read: May be stored in a cool, dark
place for up to six months, including the full Christmas date. Refrigerate after opening. If sealed with paraffin, the label should
read: May be stored in a cool, dark place for up to two months, being sure to include Christmas date and the year. Refrigerate after opening.
If the jam is sealed only with plastic wrap, the label should read: May be stored in the refrigerator indefinitely.
Comments
comments