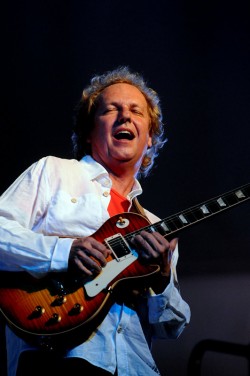 Guitarist/Composer Lee Ritenour

What do you do for an encore when you already are considered a pioneer of smooth jazz, have a Grammy Award, 19 Grammy nominations, numerous No.1 spots in guitar polls, 35 chart songs, more than 40 albums and are a founding member of Fourplay, the most successful band in contemporary jazz?  If you're guitar maestro Lee Ritenour, you keep doing it with the same love, passion and virtuoso talent that guided the first 40-plus years of your illustrious career.
It's possible that Lee Ritenour's greatest talent lies in his respect and admiration for performing with fellow high-caliber musicians, which has led to numerous crowd-pleasing collaborations. The most notable example is the one with pianist Dave Grusin, which resulted in winning the Grammy for their work together on "Harlequin." Lee's jazzy, funky and colorful composing and playing shines brightly on his latest release, "Rhythm Sessions," which takes his ardor for collaboration to new levels. The CD's all-star rhythm sections include such luminaries as Chick Corea, George Duke, Stanley Clarke, Dave Grusin, Christian McBride, Marcus Miller and winners of his Annual Six String Theory International Competition.
You can hear Lee talking about his lengthy career, the making of his 45th CD, "Rhythm Sessions," and some little-known nuggets of insight about what continues to inspire him, in the 30-minute conversation with music. Just click on the player above to listen. Visit Lee's website here.
Comments
comments