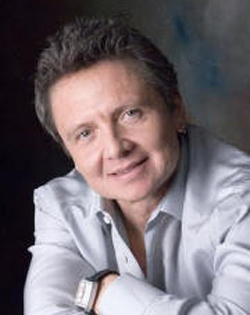 Keyboardist/Composer Philippe Saisse
Surviving and succeeding in the tenuous and challenging world of contemporary jazz these days is no easy task, and there?s always an inherent pressure on artists to stay one step ahead of the trends. Songwriter, producer and keyboardist Philippe Saisse has thrived in this sink or swim environment by taking the kinds of creative risks that have kept him at the forefront over his illustrious 20 year career. In 2006, he hit the mark again with his The Body And Soul Sessions, his critically acclaimed #1 Billboard album of pop cover songs on Rendezvous Music. He particularly captured the imagination of contemporary jazz fans everywhere with his compelling piano and Fender Rhodes driven version of Steely Dan?s ?Do It Again.?
One of the most ubiquitous airplay hits of the year, the song featuring the French born keyboardist?s longtime trio of bassist David Finck and drummer Scooter Warner spent six weeks at #1 on the Radio & Records airplay chart and #1 for five consecutive weeks at  www.smoothjazz.com, 20 weeks in R&R?s Top Ten and was the #6 most played track in the format for the year. Rather than stick to the vibe that broke him through to the mainstream, on his Koch Records debut the multi-talented artist breaks genre barriers and finds renewed joy and creativity At World?s Edge?a powerfully eclectic themed album inspired by his recent move to Los Angeles after living several decades in NYC.
Finding a new lease on his musical life in California, Saisse became a bona fide part of city?s thriving scene the minute he hit town, working with urban jazz greats Peter White, Rick Braun and Richard Elliot. He wrote and co-produced ?Que Paso? on the #1 Braun-Elliot album RnR, quickly hit the road with Elliot and began collaborating on his and Braun?s latest solo projects. Eager to do his first album of originals since the 2004 Japanese release Ready To Go, Saisse reconnected with a batch of famed musicians from all over the world that he had collaborated with in the years between his first solo album (1988?s Valerian) and before forming his acoustic trio with Finck and Warner in the early 2000s.
These include drummer Simon Philips, whom Saisse has known since the two toured with guitar legend Al Di Meola in the 80s, and bassist Pino Palladino, who played fretless on the keyboardist?s 1995 Verve date Masques, which was #1 for three weeks. Saisse also works on At World Edge with trumpeter Jeff Beal; NYC based trombone great Michael Davis; longtime smooth jazz compadres, guitarists Jeff Golub and Marc Antoine and saxman Kirk Whalum; percussionist Lenny Castro; and Beninese vocalist Angelique Kidjo, winner of the 2008 Best Contemporary World Music Album Grammy (for jin Djin) who co-wrote and performed on Saisse?s 1999 African flavored world beat/electronic dance hit ?La Vie.?  Kidjo and Saisse pick up where they left off on one of At World?s Edge?s most explosive tracks, the wild, hypnotic world jam ?Assante Sana,? which also features acoustic guitarist and oud player Annas Allaf.
Whalum, Braun and Davis form a powerhouse horn section behind the keyboardist on the exotic, intensely percussive swinging free jazz jam ?Roppongi Blues,? while Antoine and Beal help create the dreamy and sensuous late night vibe of ?Topanga Moon Dance,? which was inspired by the location of the friend?s house Saisse stayed at before moving his family West. That home belongs to Bill Howell, the grooving inspiration behind the old school, easy swinging ?Billy?s Blues? featuring Jason Golley on trumpets and flugelhorn. Saisse balances his pop, rock and funk-infused tracks like the classic rock edged ?The Rover,? ?Monday Afternoon? the first single, and the cleverly titled, autobiographical trio jazz opener ?From Nowhere to Now Here? with the film score lush ?Through Tainted Glass,? a piece reminiscent of some of Saisse?s early new age-jazz efforts.
For both logistic and economic reasons, At World?s Edge is truly an album that couldn?t have come together in any decade but the 2000s; the very digitized, geographically spread out sessions perfectly embody the album?s title concept. With the exception of Braun, Castro and Philips, who worked live with Saisse in the studio, almost every other musician involved did their parts via sound file from another location around the globe: Palladino from London; Antoine from Madrid; Kidjo from New York; Whalum from Memphis, and album co-producer Goh Hotoda (whose legendary credits include Madonna, Chaka Khan, Prince, Janet Jackson, Marcus Miller and David Sanborn) from his home studio in Tokyo. Even the tracks featuring Saisse?s former trio mates Finck and Warner were done at various times in different New York studios.
?The challenge under these circumstances was to see if everyone could get their creative juices flowing in these different environments, and ultimately, I was very pleased with the results,? says Saisse. ?The whole idea behind At World?s Edge was the fact that after finding success with an album of cover songs, I wanted to make more of a personal statement that I could only express through original compositions. The music emerged from a period I call the ?dark age,? where a flood back in New York ruined my studio and I developed a bad ear infection that caused me to lose my hearing for a few months just as I was about to start work on Kirk Whalum?s Roundtrip CD.
?When I moved to L.A. and got involved with Rick Braun, Peter White and hooked up with Simon again,? he adds, ?it was like a whole new world opening up for me. I was also excited about how well ?Do It Again? was performing at radio and wanted to capitalize on the door that was opening for me in contemporary jazz. It was time to make a record that would be a definitive stylistic statement of where I am as a musician, working with so many of my friends from over the years.?
The icing on the cake for Saisse, was when his long time friend Tony McAnany brought to his attention Austin, Texas based singer/songwriter David Rice. ?From the moment I wrote it,? he says, ?I always felt that a vocal treatment of the title track could work. What I received from David a short few weeks later was beyond my wildest dreams. His voice and lyrics took that tune to a whole other level in my view, and that he was able to fit it all in without my altering anything in the original track is nothing short of genius. This sets the tone for the whole recording.?
Chuck Mitchell, VP of Jazz/Adult Music at Koch, who helmed Verve Records while Saisse was signed to the label and orchestrated their creative reunion and signing to Koch, says, ?Philippe?s taste and imagination are fully front and center in this new work, which really extends the reach of contemporary jazz expression in fresh and original ways.?
In between finishing At World?s Edge, Saisse also managed to contribute to a slew of other major contemporary jazz projects as a songwriter/producer including solo records by Rick Braun, Richard Elliot, Kirk Whalum?s Grammy nominated, ?Round Trip,? Warren Hill, Paul Brown & Marc Antoine, and Dave Koz. He also produced three major theme/concept albums: ?The Tribe Project,? which featured a fusion of jazz, world music and Native American Indian music; ?Rendez Vous In Paris,? a collection of classic French pop standards featuring his producing partner and French celebrity/singer Jasmine Roy, along with guest appearances by Al Jarreau, Mark Antoine, Michel Legrand, Gerard Depardieu, and others that will be released by Sony/Japan in 2009; and a Yahama Diskclavier Pianosoft solo recording project featuring his music.
Historically known as a studio rat, Saisse has ventured beyond his musical safe haven over the past several years to develop an emerging profile as a sought after live performer. Working either with The Philippe Saisse Trio or in packages with Warren Hill & Jeff Golub, Bobby Caldwell, Paul Brown, Marc Antoine, Richard Elliot, Rick Braun, and Michael Lington, he has performed at several major jazz festivals, including The Wave Fest in LA, Berks Jazz Festival, The Catalina Jazz Festival, Las Vegas City of Lights Jazz Festival and a string of top jazz clubs around the country. Last year, his Trio performed at the Cotton Club in Tokyo, and in February 2009, Saisse will debut a new live ensemble/trio with recording mates Phillips and Palladino for dates at Billboard Live in Osaka, and Tokyo, (Feb 2 ? 5) with hopes of featuring the line up for shows in States on the heels of his new release.
Having studied at the Paris National Conservatory (piano, percussion, theory and composition) and Berklee College Of Music (where, among other things, he mastered the vibraphone under the tutelage of Gary Burton), the Marseilles born, Paris raised Saisse counts as his influences everyone from Count Basie and Oscar Peterson to Blood, Sweat & Tears and Chicago. His first jazz gig was with fusion guitar great Al Di Meola, and he did early studio sessions with Chaka Khan and Peabo Bryson. Saisse?s talent lies not only in his playing but also in his understanding of his projects from more than one perspective. Through donning a variety of hats, and collaborating with such stalwarts as David Bowie, the Rolling Stones, Chaka Khan, the B-52?s, Rod Stewart, David Sanborn, Nile Rodgers, Phil Ramone, Al Jarreau, Narada Michael Walden, Al Di Meola, and Gato Barbieri, he has gained unique insight into his own musical goals.
Over the years, has been a songwriter and producer for poet and jazz artist Claude Nougaro?s, ?Nougayork,? served as resident producer for a season of the television series ?Popstar? (France?s version of ?American Idol?) and scored movies and series for French cable television network ARTE. In February 2005, the French Minister of Culture and Communications bestowed upon him the title of ?Chevalier des Arts et Lettres,? one of France?s most distinguished honors. He was also commissioned by Ramone to write an orchestral work in honor of Berklee?s 60th anniversary in 2006. As a solo artist, Saisse earned critical praise for his U.S. releases Dream Catcher (1994), Masques (1995), Next Voyage (1997) and Halfway Till Dawn (1999) before focusing his energies in the current decade on recording for JVC Victor in Japan.
?Making an album like At World?s Edge reminds me how much I enjoy the freedom of being able to make a living from pursuing my true passion,? Saisse says. ?I?m most inspired when I get an email from a teenager who is listening to my music and discovering jazz for the first time. It?s a great feeling to pass it on to the next generation. But music is a crazy business and so I approached this recording as if it were going to be the last one I ever made?which may explain why it?s so much fun and taps into so many subgenres of jazz. I wanted to include all of the things I love to do, so that if I never had the chance to make another, I could say, ?now this is a cool one. I?m quite happy with what I?ve done.?
Comments
comments