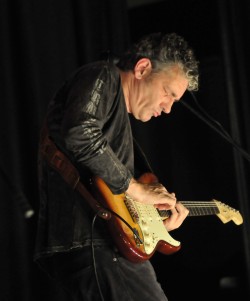 Cool, Calm and Collected Guitarist Chris Standring
You'd never know from his urbane persona and cool, sophisticated guitar playing that Chris Standring is a former farm boy from a small village a couple of hours north of London. With gritty determination he made his way to London, where he studied classical guitar, gigged at clubs around town, supplied music programs to the BBC and yearned to go to Los Angeles. 
That same determination got him on a plane to L.A., where he supported himself with menial jobs while he checked out the whole music scene in the clubs and studios. Once he knew this was where his heart was and where he wanted to live and work, he flew back to London, went to Music College and planned his move to Los Angeles. It took him ten years to get back.
Listen to Chris tells us about his journey and the great reception his music ultimately received from smooth jazz radio and his many fans. With his new CD, "Electric Wonderland," he reaches new levels of musical intensity and you'll hear some of the songs. Click on the player to listen to our 30-minute in-depth conversation with music with guitarist Chris Standring. Visit Chris's website here.
Comments
comments