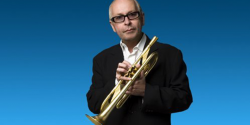 Smooth Operator
Still waters run deep. After 25 years as a definitive member and driving force of the legendary funk/soul group Tower Of Power, Grammy and Emmy nominated trumpeter Greg Adams set sail on a new musical course when he released his first solo album, "Hidden Agenda" in 1995. The single from it, a cover of Sade's "Smooth Operator" with its rich, warm groovin' sound established him as a major player in the world of smooth jazz and unveiled the width and depth of his musical versatility.
That  versatile talent has been artfully displayed on more that 500 recordings in which he's performed, arranged and/or composed for such diverse musicians as The Eurythmics, Rod Stewart, Lyle Lovett, Heart, Linda Ronstadt, Luther Vandross, Aaron Neville, The Brothers Johnson, Phish, Little Feat, Wilson Pickett, Huey Lewis and the News, Raphael Saadiq, Al Green, Quincy Jones, B.B. King, Everclear, Chicago, Bonnie Raitt, Dionne Warwick, Ray Charles, Peter Frampton, Billy Preston, Terrence Trent Darby, Josh Groban, Madonna, The Rolling Stones, Celine Dion and many more major artists.
A musician's musician whose inherent soulfulness translates to any genre, Adams' presence elevates the vibes of any project he's associated with. His polite, unpretentious personality takes a backseat when he plays his horn. That's when you know you're in the company of a vibrant, brilliant musician in complete control of his art. Whether it's being blasted at you with the force of a tropical storm in the form of the big, fat, juicy sound of a funky horn section or the quiet groove of a silky smooth ballad, when Greg Adams is at the helm you're guaranteed soul satisfaction. You'll hear and feel it in our conversation with music when you listen to the player. Check out Greg's website here.
[/blox_text][/blox_column][/blox_row]
Comments
comments