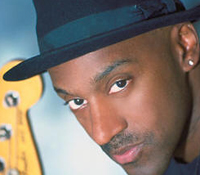 The Ultimate Funkmeister

If you're looking for a deep funk groove you won't do any better than the ultimate funkmeister, bassist Marcus Miller. That's what Miles Davis was looking for in the early '70s when he discovered the barely-out-of-his-teens Miller and invited him to join his band. In the three decades since his landmark time with Miles, Miller has garnered two Grammys, produced, composed and recorded on over 500 albums with the most important and popular musicians of the day, and released eight of his own genre-defying CDs.
His most recent solo release, Renaissance represents a fresh phase in his evolution, one that musically expresses his feelings about a mélange of personal and social issues. With song titles like "Redemption" and "Revelation" mixed in with a tribute to one of America's most soulful cities, "Detroit," "Gorée," a composition honoring the feelings aroused by visiting the infamous slave port off the coast of Senegal and other songs that pay tribute to a wide-variety of musical, personal and social interests, Miller's renowned versatility and range are revealed in new light.
Even more revealing is the honest and insightful conversation with music that you'll hear from this soft-spoken, highly perceptive master musician. You can listen in by clicking on the player above. You can also meet him and enjoy his music in-person when Marcus Miller takes the stage and mingles with guests on The Smooth Jazz Cruise West Coast  edition October 12-19, 2013. The greatest party at sea will be infused with Miller's uniquely inspiring blend of soulful jazz. Click the player above and you'll hear Marcus Miller talk about his life, his music and The Smooth Jazz Cruise. Visit Marcus Miller's website here.
Comments
comments