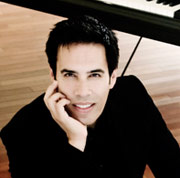 Freddie Ravel
Passionate Purveyor Of Music, Wisdom And Joy
From the age of five, Grammy nominated keyboardist Freddie Ravel has been passionate about music. That passion has taken him from his childhood dreams to the heights of professional musicianship. By the time he was 23 he was invited to join Brazilian Master Sergio Mendes' band and toured the world with him.
Soon after that Freddie released three highly acclaimed solo albums, including "Freddie Ravel" from which his Smooth Jazz hit "Sunny Side Up" became his signature.
Along the way, Freddie has produced, recorded and composed with such diverse luminaries as Earth, Wind & Fire, Al Jarreau, Madonna, Prince, Quincy Jones, the Boston Pops and rock legend, Carlos Santana, among others.
Still driven by the same passion for music that captivated him at five, as a highly accomplished adult Freddie is now using his years of musical and human experience to being a creative force for expanding human awareness with his keynote concerts "The Music Of Business." They're based on the premise that musical principles can be applied to creating a richer, more harmonious life by people everywhere.
Freddie's masterful ability to bridge disciplines and cultures is reflected in all of his endeavors, especially so in his latest CD, If Music Could Speak. It's a vibrant collection of songs that combine the robust sounds of a large orchestra with Ravel's hallmark warm and cookin' Latin Jazz rhythms. Recorded live at the Crystal Cathedral, with the 90-member-strong Hour Of Power Orchestra and Choir and some of L.A.'s top studio musicians, If Music Could Speak transcends genres, producing a timeless collection of songs for all seasons, including two Christmas classics spiced-up with Latin flavor.
Freddie Ravel spreads the joy around in many ways.  Hear him talking about all of it and listen to his music by clicking on the player at the top of the page. Visit his website here.
Comments
comments