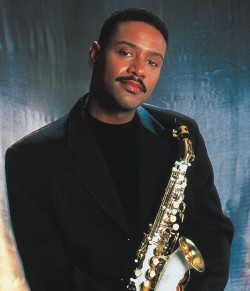 Saxophonist Kim Waters
The Intimate Power Of Silver Soul
Saxophonist Kim Waters' silky, urban-tinged, jazzy melodies have been setting the scene for love and romance for 25 years. His latest release, Silver Soul, his 20th CD, celebrates a prolific career that has produced numerous chart-topping radio hits and countless sensuous encounters for his vast audience of grateful fans.
Silver Soul is jam-packed with Waters' emotive, impassioned playing for which he is rightfully renowned. He wrote eight of the songs and co-wrote two R&B flavored vocals. Among the vocalists appearing on the CD are his wife, the talented and soulful Dana Pope, Eric Roberson and Zendaya. His daughter, pianist Kayla Waters, is also showcased and delivers a solidly admirable performance.
The inner flame burns brightly in this serene, easy-going man. You hear it expressed vividly with all the confidence and finesse of an artist who has spent the last 25 years working his magic. With this silver anniversary CD he's at the top of his game.
In our conversation with several tracks of the new music, Kim talks about how his career began, with Sweet and Saxy in 1989, his love of family and his unpretentious attraction to the peace and quiet of small-town living.
If you crave the ideal combination of poetry and passion delivered with sophisticated artistry, you'll find your appetite satisfied when you turn down the lights and turn up the volume on Kim Waters' Silver Soul. Click on the player above to listen to our conversation with music. Visit Kim Waters' website here.
Comments
comments