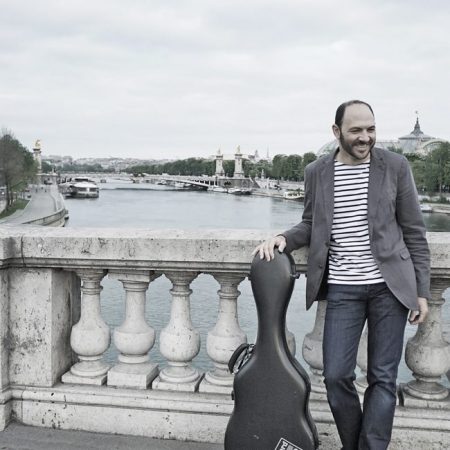 Nate Najar has enthralled audiences across the globe with his trademark and distinctive style of performing jazz on acoustic classical guitar. Continuing on his freewheeling journey as a true musical citizen of the world, he follows the release of his acclaimed 2016 album This is Nate Najar with a warm, soulful, multi-faceted recording reflecting his enduring love for the City of Lights, entitled Under Paris Skies. Released on Woodward Avenue Records, the 11-track collection, explores Najar's passion for French jazz and pop with a deeper commitment and purpose than ever before and showcases the "rabbit hole" of research he did to curate a unique eclectic variety of pop, jazz and classical songs rarely re-imagined by American jazz artist.
"Who doesn't love Paris?" Najar asks whimsically. "I don't know anyone who says they don't want to go there, and if you've been, how could you not want to go back? I have a love affair with France, which is a wonderful, romantic place on every level. There is such a rich cultural history, with so much global influence. Paris has traditionally been the center of many movements in classical music, but there's also an incredible legacy of pop and jazz music many Americans may not be familiar with."
Though he waited until more than a decade into his prolific recording career to create an album solely dedicated to the musical spirit of Paris, Najar has long considered Belgian born French legend Django Reinhardt as one of the guitarists who had the greatest impact on his development. The other two are Wes Montgomery and, obvious to anyone who has followed Najar's career, Charlie Byrd.
His three recordings on Candid Records – including Blues For Night People: The Nate Najar Trio Remembers Charlie Byrd and This Is Nate Najar – earned him accolades from critics and influential jazz voices alike. Becky Byrd, wife of the late guitarist Charlie Byrd, said, "There is no doubt that there is a piece of Charlie's soul in Nate's mind, heart and fingers. Get ready, world, here comes Nate Najar!"
Nate Najar will be embarking on a European tour in September, returning to tour the U.S. in October. For more information visit his website as indicated below,
Stay Connected:
Website: www.natenajar.com
Facebook: www.facebook.com/natenajar
Twitter: @natenajar
Comments
comments