Smooth Jazz Sunday Brunch
Presented by Chicago's Rick O'Dell
With his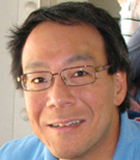 lustrous voice and sincere, gracious demeanor, Chicago radio icon Rick O'Dell has been smoothing out the lives of people in his hometown for more than 30 years. Most of that time it has been on smooth jazz radio. You know him as an old friend on WNUA, as its midday personality, then WLFM, Chicago's Smooth 87.7,  online as the smooth jazz programmer for ChiTownSmoothJazz.com  and now as program director of  WRME LP 87.7,  the soft rock/oldies station branded as Me-TV FM.
This lifelong Chicagoan is as steeped in and passionate about his town's vibe and culture as he is in the music and lifestyle of smooth jazz. A highlight of that lifestyle has been the Midwest version of Smooth Jazz Sunday Brunch, which Rick pioneered in Chicago and has hosted for a very long time. His favorite location is the Parrot Cage Restaurant, right on the water in the South Shore Cultural Center. You'll still find him hosting there on Sundays and he's kind enough to take us along for the delicious and historic experience of Smooth Jazz Sunday Brunch at the Parrot Cage Restaurant in Chicago. Rick continues to be a rich source of knowledge and conversation about smooth jazz and everything related to it. His other big loves are his wife Lori, baseball and kindness to animals. To stay connected with Rick's authentic, engaging personality, you can e-mail him here or check out his website at RickOdell.com.                
The Parrot Cage Restaurant
The wow factor is on full display when you enter the grounds of the South Shore Cultural Center. Built
in 1905 as an exclusive and restrictive playground for rich and famous Chicagoans, the posh former country club looks like something out of an F. Scott Fitzgerald novel. Its luxurious Italian Resort style makes it an architectural treasure that resembles a summer palace sitting on 58 acres of prime lakefront property. Bought by the Chicago Park District in 1975 and restored to its earlier grandeur, the building was placed on the National Register of Historic Places in that same year. 
You're transported to another era when you spend time there and there's plenty to do. From a nine-hole golf course, tennis courts, a beach, an art gallery and horse stables to the Parrot Cage restaurant and the Washburn Culinary Institute, you're immersed in opulent beauty and a history as deep and wide as Chicago itself. It's even the place where Barack and Michelle Obama held their wedding reception.
The Washburne Culinary Institute is one of the best and oldest culinary schools in the country. The education received there is more hands on than most because the school runs a restaurant to showcase the students' cooking: The Parrot Cage restaurant, home of the Smooth Jazz Sunday Brunch.
The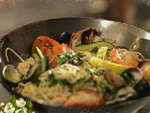 acclaimed Parrot Cage restaurant was named after the monk parrots of Hyde Park and you see the parrot theme repeated throughout the restaurant's decor. The charming dining room allows you to enjoy a view of the lake while tasting culinary creations by emerging Chicago chefs. Those delicious creations include: An omelet station, bacon, turkey sausage, fried chicken
wings and waffles, slow roasted turkey breast with pan gravy, catfish Creole, smothered pork chops, sweet potatoes;
baked ziti, collard greens with smoked turkey, pan roasted salmon with herb buerre blanc, jerk chicken, red beans and rice, roast rib eye of beef with mushroom au jus, tilapia with capers and assorted mini desserts and host of ever-changing delights that make it the best buffet brunch in Chicago. Among those delights are live music and the wonderful company of Rick O'Dell when he shows up to host. Sundays from 10:00am to 2:00pm. Reservations are a must.  Please call the Parrot Cage at (773) 602-5333.
Parrot Cage Restaurant
7059 So. South Shore Drive
Chicago, IL 60649
parrotcage.com
[/blox_text][/blox_column][/blox_row]
Comments
comments