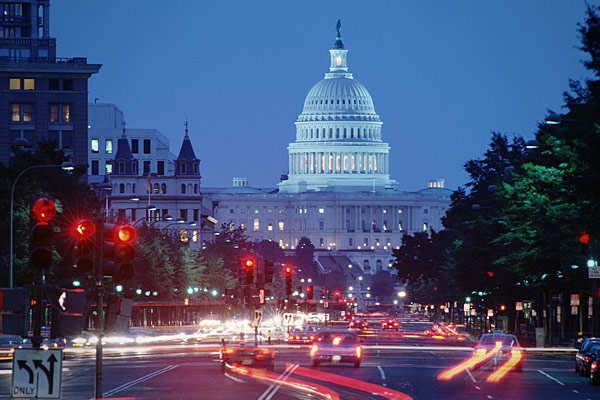 ---
D.C.'s Delightful Debut:
DBGB Kitchen & Bar – A Capitol Experience
By Deborah Howell
It's a part French brasserie, part American bistro, and alllllll delicious. When our friends in D.C. i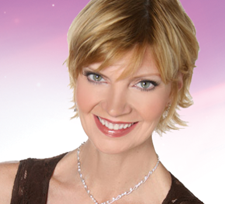 nvited us to dinner at Chef Daniel Boulud's DBGB Kitchen & Bar the week after it opened in September, we jumped at the chance to try it out. We went for dinner, but believe me, brunch here is HIGH on our bucket list next time we're in the neighborhood.
We began with some delightful bites to share. All women love little plates, and the love shown these little plates was straight from the heart. Tarte flambée with fromage blanc, bacon and onions was a savory treat; the charcuterie plate a masterpiece, with a trio of sassy spicy mustards and sourdough bread bestowed upon the plate, lest we miss the tiniest drop. And mop up the last drop we did.
Next up—the fall squash soup—utterly divine and bursting with earthiness. Steak tartare with pickled vegetables and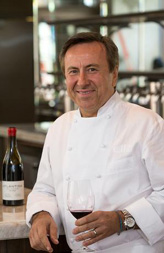 egg dressing passed the taste test with two at the table who know their tartare tout de suite!  Not to be outdone, the foie gras terrine with plum quinoa, fresh mache (like kale) and toasted brioche had the four of us teetering on the edge of uncivilized behavior. (We nearly came to blows over who would get the final one.)
Before we calmed ourselves down, a dish of basil fried rice with pork, lemongrass, red curry, green papaya, and peanuts topped with a quail egg swooped in and stole our hearts. Order was restored.
Onward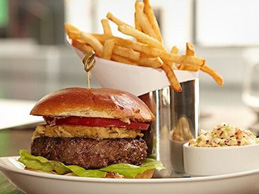 we pushed to the main fare as our wine glasses were magically filled with perfectly paired selections for each course by the charming sommelier. Coq au vin never had it so good. Nor have we. On its side rested hand-picked mushrooms, lardons, pearl onions and spatzle. To die.
I opted for the pancetta wrapped River trout with sage oyster mushrooms and potato écrasé. Needless to say, I was not disappointed with the entrée—just that I had to share it because we had all agreed up-front to do so. All agreed that that trout not die in vain.
You can not go wrong with any of the three rock-star burgers at DBGB Kitchen & Bar. I feel like if I describe them to you in detail, it would be like giving away the juicy plot of the thriller movie, so, suffice to say, they alone are worth the trip to our nation's capitol.
We were gently persuaded (by each other) to press on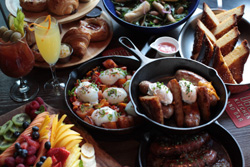 and in spite of being sated, to try a couple of the desserts–just to see if our happiness factor could be heightened even one more degree. Turns out, it could.
Have you ever had a hand-made fig tarte with ginger custard and red wine sauce? No? Your mom never made that for you? Well, never mind, because now you can have it every time you're in D.C. And you should. It's
. For the romantics reading this, you might want to pair a dessert Riesling with the Baked Alaska for Two with pistachio and vanilla ice cream, raspberry sorbet and meringue done just so, because Executive Chef Ed Scarpone can't help himself. He just has to make it spectacular.
 So there you have it. Service, setting, superb cuisine. What's not to love? Book a brunch, lunch or dinner here with friends and show them what a genius you grew up to be. A capitol idea, old chum.
Reservations and further info: dbgb/dc.com
---
---
Georgia Brown's Down-Home
Sunday Brunch
Whether you live and work in the District or you're one of the countless v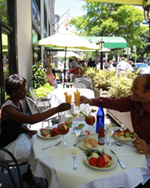 isitors from around the world, when you go to Georgia Brown's for Sunday Jazz Brunch you're sure to feel at home. Southern hospitality and Southern cooking is famous for its comforting appeal and that's the specialty of the house. You can feel it from the moment you're warmly welcomed to the artistically decorated, upscale environment that's reminiscent of oak-tree shaded small town southern streets. For all of its dedication to the unspoiled charms of the south, Georgia Brown's is really for sophisticated adults who love high-end comfort food like warm country biscuits and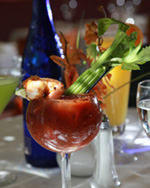 cornbread sticks, crispy catfish fingers and cherry pepper vinegar, lush reminders of traditional Southern home cooking. Other treats include Charleston she-crab soup, fried green tomatoes, Carolina gumbo and jumbo lump crab cakes. The fried chicken is heart-stoppingly good and is accompanied by mashed potatoes splashed with a rich brown gravy. For dessert, servers tempt with a tray displaying Key lime pie, sweet potato cheesecake, peach cobbler and bourbon pecan pie—all served with a scoop of Jack Daniels ice cream and the Sunday brunches are spiced with live jazz.
This downtown Southern-food Mecca is a shrine to South Carolina Low-Country cuisine that evolved from the heady mixture of B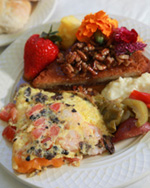 arbadian planters, West Africans, Powh
atan Indians, French Huguenots and Sephardic Jews from Portugal and Spain; all of whom influenced this rich and diverse cooking with foods and methods from their homelands. The restaurant is rumored to be a favorite of Bill Clinton, who frequents it when he's in town, First Lady Michelle Obama and Jill Biden were seen there recently, it's Zagat rated and won an Open Table Diner's Choice Award in 2011.
Treat yourself and those you care about to Georgia Brown's lush, lavish and down-home Sunday jazz brunch from 10:00 am to 2:30 pm, any Sunday you're in D.C. Reservations and further info on their website.
Comments
comments