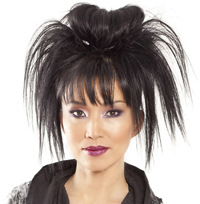 Keyboardist Keiko Matsui's
"Soul Quest"
Tokyo born jazz keyboardist Keiko Matsui's strong, graceful music reflects a cosmopolitan perspective that includes influences from cultures around the world; along with many references to her connection with animals, nature and cosmic forces. If you ask her what elements of her Japanese heritage resonate most strongly with her, she responds by saying it's the belief that everything is alive with spirit. She regularly bows in reverence to her piano and its living spirit.
Keiko's artistic inspiration comes from her relationship with the mystical side of life. When composing music, she feels out each composition as though it were, in her words, "coming to me from another space, another dimension," and "catching notes from the silence and then simply placing them together. We are connected by music, as the ocean connects the continents."
Matsui's career spans three decades, during which time she has released more than twenty CDs and has received international acclaim with many hit records and awards to her credit. Classically trained, she fell in love with jazz in her teens. Her sources of inspiration are as eclectic as her music with Stevie Wonder, Sergei Rachmaninoff, Maurice Jarre and Chick Corea cited as primary influences. With the release of her CD, "Soul Quest" she celebrated her landmark 25th anniversary as a recording artist in the United States.
During the course of her career, Keiko's music has been peppered with everything from funk to classical, to the blues, Latin and world music. "Soul Quest" is a natural progression of that eclectic, inclusive approach with tunes that range from the joyously funky to the spare and serene. It spotlights an all-star cast of players including producer and drummer Narada Michael Walden, guitarist Chuck Loeb, saxophonist Kirk Whalum and bassist Marcus Miller.
True to her global perspective, various songs on "Soul Quest" were recorded all across the world; in New York, Japan, San Francisco, Los Angeles and Eastern Europe. About it she says, "Creating this album was like going on a soul quest, as I tried to figure out how to express the things I was thinking and experiencing during this past year.  This music energizes me and I am overwhelmed with emotion when I listen to it. I hope people will allow themselves to go inside the music and become a part of my journey."
Click on the player and take the journey with us as we talk about "Soul Quest," Keiko Matsui's life and the powerfully supple music that flows from it. Visit Keiko's website here.
Comments
comments