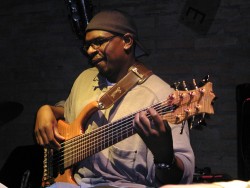 Big Bass Man
Melvin Lee Davis
Ask Chaka Khan or Lee Ritenour how important Melvin Lee Davis is to their bands. He's been the Music Director and bassist for both of them for years. If you ask Melvin what's important to him, he'll tell you how much he treasures supporting great musicians. He considers playing the bass his spiritual calling and delivers that devotion and presence with every note he plays.
Born to be a musician, with parents who surrounded him with music, Melvin began playing the violin as a young boy. In our audio interview you'll hear the story of how he tried several instruments before he found his true musical love with the bass in his early teens. He mastered it so thoroughly that at the age of 16 he began his brilliant career when Buddy Miles brought him to New York to play with his band. After that he worked with Don Cornelius of Soul Train, who introduced him to many of the top artists in the industry and over the years he has toured and recorded with Gerald Albright, the Pointer Sisters, Bryan Ferry, David Benoit, Larry Carlton, Patti Austin, Gladys Knight and many other top acts.
Melvin's signature is the strong groove and gentle, loving spirit he brings to every environment both on stage and off. Along with providing the dazzling musical foundation for others, he's recorded six of his own CDs, with the newest one, "Kindred Moments" due to be released in February. You'll hear a track from it in our podcast. He has traveled the world playing the bass and is in constant demand in many genres of music. For Melvin, it's all music and to his mind, genres are an artificial designation dreamed up by marketing teams. One of his recent CDs emphasized that point with the title, "Genre Music." As a composer Melvin wrote the theme for the TV shows The Party Machine and Soul Train's A Comin', among others.  He's also appeared on the Johnny Carson, David Letterman, Jay Leno and Arsenio Hall shows. Wherever he shows up he brings a deep commitment to making the people he touches with his music feel good. And he always succeeds.
Click on the player above to hear the warm and illuminating conversation with music with master bassist Melvin Lee Davis. For more information about Melvin's music and touring schedule visit his website here.
Comments
comments