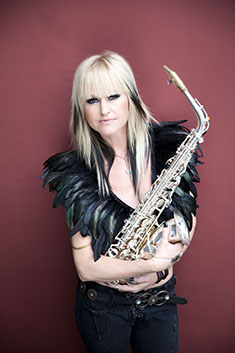 Saxophonist Mindi Abair
Staying True To Herself
Mindi Abair's musical talent, blond beauty, and easy-going charm belie her strength of character and determination. Born into a musica

l family, she spent the first five years of her life on the road with her dad, saxophonist Lance Abair. She knew from that early age that what she fervently wanted was a career in music. That fire burned even brighter as she entered her teen years and it took her to Berklee College of Music in Boston where she refined her art.
While there she was encouraged by teachers to start her own band. Mindi feels that the greatest lesson she learned at Berklee was to be true to herself. She's spent the following decades doing just that. It's produced a career in smooth jazz and beyond that's filled with radio hits; concert tours; TV appearances; her own radio s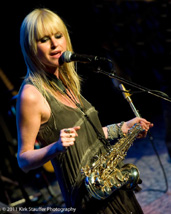 how; "Chill With Mindi Abair;" awards; acclaim and ever-expanding opportunities to express herself on her saxophone in her own original way.
Her powerhouse energy and chops bowled over Steven Tyler of Aerosmith when she performed as a guest saxophonist on American Idol. She's now touring with his band. This summer she's part of the Dave Koz Summer Horns tour along with sax dynamos Koz, Gerald Albright and Richard Elliot, and she's booked solidly into next year for concerts and jazz festivals across the U.S. and around the world with her own band. Jazz Times described her as, "Captivating…a distinctive sound and memorable melodies. Let's put it this way…Abair's one Apple commercial away from superstardom." Listen to our 30-minute conversation with music and you'll hear why it's true. Visit Mindi's website here.  
Comments
comments