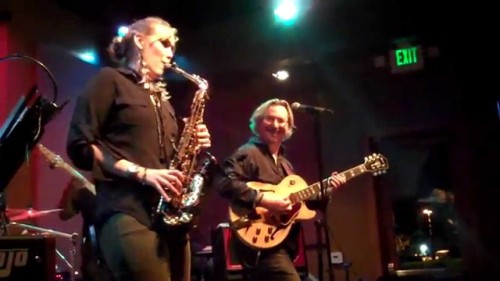 NiVO

DEUX
Guitarist U-Nam and Saxophonist Shannon Kennedy
With a rambunctious saxophone and stylish, freewheeling guitar open, Nivo Deux zestfully announces the arrival of their debut hit single, "Love's No Distance." The song title holds as true in life as it does musically – Nivo Deux and "Love's No Distance" is the swingin' love child of husband and wife team, French guitarist U-Nam and American saxophonist Shannon Kennedy.
You know French guitarist U-Nam for his No.1 hit "Street Life." He is also well-known as a respected songwriter and producer in France, having worked with artists such as Barry White, MC Solaar and others. His latest solo release, "Weekend in LA: A Tribute to George Benson" has reached the No.1 position on Amazon US and No.1 on iTunes for Jazz in Japan. The album features such renowned artists as Patrice Rushen, Phil Perry, Stockley Williams, George Duke and Marcus Miller.
Recognized as an emerging powerhouse saxophonist in Southern California, Shannon Kennedy made her international debut performing on the 2007 Smooth Jazz Cruise with some of Smooth Jazz's best-known performers – Brian Culberston, Craig Chaquico, Boney James, Nick Colionne, Candy Dulfer, and Michael Lington. Since then she has toured and performed with 10,000 Maniacs, Peter White, and has made an appearance on the television series America's Got Talent.
The band's name, NiVO DEUX is derived from the French translation of "Level 2." The name pays homage to one of their favorite bands, Level 42. NiVO DEUX is the marriage of 80's pop, smooth jazz and electro-funk, created by the husband and wife duo. Listen to our conversation with music by clicking the player above and get to know this talented, refreshing and innovative musical couple. Visit the NiVO Deux website here.
 
Comments
comments