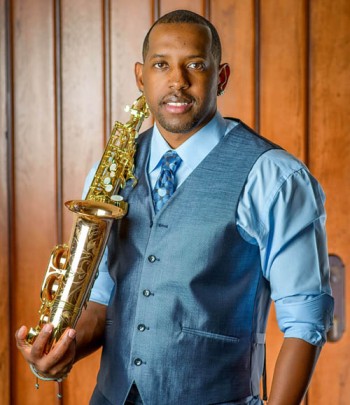 Jarez  Jams
Every generation builds on what has come before. Born and raised in Carson California, Jarez was exposed to music from his first breath. His father, James Posey, was a keyboardist with his own studio. It was in high school that Jarez discovered his passion for the saxophone and was determined to make jazz his life work. Inspired by the greats of yesteryear – John Coltrane, Miles Davis and Charlie Parker, he set about building on that tradition and extending it to his own generation.
While Jarez's playing appeals to jazz lovers of all ages, he sits squarely at the juncture of jazz and hip-hop, attracting younger listeners to his music because of his association with Grammy winner, rap artist Coolio. Jarez's tour dates are not the normal jazz venues you would expect either. He tours regularly on the hip-hop scene, incorporating the smooth sounds of jazz into cutting edge beats. 
Making jazz cool to a new audience is what Jarez does with his worldwide appearances with Coolio and the sharing of his own music across the planet. In our conversation with music, from his hit new CD On Top Of The World, you'll find out how this fine musician, born Jarel Posey, became "Jarez."  You'll also hear stories behind each of his songs; get the inside track on his association with Coolio and much more. Click on the player above to listen. Visit his website here.
Comments
comments