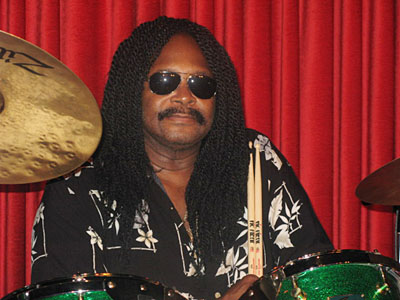 Alphonse Mouzon Artist
Chairman/CEO of Tenacious Records, composer, arranger, producer, multi-instrumentalist and actor Alphonse Mouzon has been composing and producing beautiful music that has captivated and enthralled audiences throughout the world for over four decades.
Alphonse Mouzon (who is an African American mixed with French and Blackfoot Indian) was born on November 21st in Charleston, South Carolina. He attended Bonds-Wilson High School where he received his early musical training under the direction of saxophonist high school music teacher Lonnie Hamilton III, and took some drum lessons from Charles Garner before playing gigs with the Lonnie Hamilton Band. Following graduation from high school, he moved to New York to study music and drama at New York City College and medicine at Manhattan Medical School. MOUZON took drum lessons from jazz pianist Billy Taylor's drummer Bobby Thomas. While attending college, Alphonse played in the pit band of the Broadway show "PROMISES, PROMISES" after being recommended by Bobby Thomas (RIP). MOUZON also worked as a medical technologist at Columbia Presbyterian Hospital after graduating from Manhattan Medical School. However his medical career was short lived.
By 1969 his reputation as a player had spread to such an extent that a medical career was no longer attractive. By the early seventies, he had embarked upon a musical journey that would take him to almost every corner of the world and would establish his reputation as one the most creative musician of the era. In 1975 Mouzon studied acting at The Lee Strasberg Institute for Actors in Hollywood, California.  In 1997 he studied acting with Susan Ricketts and in 1998 Mouzon studied advance voice-overs with Don Pitts at California State University of Northridge.
Alphonse Mouzon musical associations read like a veritable Who's Who of modern jazz and pop music. His talents cover a broad range of musical disciplines and philosophies. He was the rhythmic foundation for the far-reaching musical explorations of pianist McCoy Tyner. He was a charter member along with keyboardist Joe Zawinul and saxophonist Wayne Shorter, of the group Weather Report. Along with guitarist Larry Coryell, Mouzon was co-founder of The Eleventh House, the seminal fusion band of the seventies. Mouzon and Coryell still tour together in a trio and with the Eleventh House.
Mouzon's rock/pop credentials include gigs with no less respectable a crew than Stevie Wonder, Eric Clapton, Jeff Beck, Carlos Santana, Patrick Moraz, Tommy Bolin and Chubby Checker. Robert Plant, lead singer for the legendary rock group Led Zeppelin, named Alphonse Mouzon, during his acceptance speech for induction into the 1995 Rock & Roll Hall of Fame, one of the band's major influences. 
Alphonse Mouzon's name can be found in just about every jazz encyclopedia/ dictionary, and is listed the 2nd edition of Marquis Who's Who In Entertainment and Who's Who In The World. Mouzon was voted the #2 Best Multi-Instrumentalist in the 1995 Jazziz Magazine Annual Readers Poll, and in 2010 he was voted the #4 Jazz Drummer in Modern Drummer Magazine.
Alphonse Mouzon is also an actor and can seen along with actor Tom Hanks in the 1996 film "That Thing You Do." Alphonse is acting and playing drums. He also composed the music score for the Blue Spot jazz club scene, in which he plays a smoking drums solo and played the acoustic piano melody and solo (on "Blue Spot") off camera. Visit Mouzon's website here.
Comments
comments