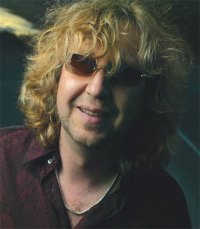 As a recording artist and producer, Nils has been one of the most successful in the Contemporary Jazz genre. With 3 number 1 Hits in the Billboard Smooth Jazz charts, including the Song of the Decade 2001-2010 "Pacific Coast Highway" and Song of the Year 2011 " Jump Start", he stands out amongst his peers. As a reviewer wrote: "Jazz Gems: The Best of Nils could easily be titled "The Best of Contemporary Jazz" and it's pure joy and exhilaration reliving these masterfully composed and produced hits." And his new CD ALLEY CAT is arguably his best work yet.
It's one thing for a world class musician to write a book with a great title like "How To Make Your Guitar Talk," but Nils has gone further–living, embracing and even transcending those words he once penned since becoming an instrumental sensation in 2005 with "Pacific Coast Highway."
According to Broadcast Data Systems (BDS), owned by the Nielsen Company, the title track to the Munich born, Los Angeles based guitarist's breakthrough debut album on Baja/TSR Records was the most heavily played track in the smooth jazz format over the past ten years with nearly 30,000 spins. The song was a true phenomenon in its initial release, staying at #1 on the Radio & Records airplay chart for more than 10 weeks on its way to being named the most played song in the U.S. and Canada for the year and since then the most played song of the decade .
"Jump Start," the aptly titled first single from his latest release What The Funk?, also just got awarded the honor of being song of the year 2011 according to Billboard and Broadcast Architecture.
Nils well-received 2007 recording Ready To Play kept the PCH momentum going and his 2009 project Up Close And Personal scored three popular airplay singles—all of which led to his nomination for "Best Guitarist" at this year's American Smooth Jazz Awards, in a category that includes George Benson, Jeff Golub and Nick Colionne. He has also become a core part of many fans' summer and fall festival experience, with appearances at such events as the City of Lights Jazz and Rhythm and Blues Festival in Las Vegas, the Catalina Island Jazz Trax Festival, the Lexus Jazz Festival in Newport Beach and the Seabreeze Jazz Festival in Panama City, Florida.
Nils' success in the smooth jazz genre has somewhat obscured his dynamic background as a versatile R&B/ pop guitarist. Over the years, he has worked with greats like George Clinton and he has a platinum record for his contributions to The Temptations' 1998 album Phoenix Rising. He contributed as a musician and co-writer of "Keep Rollin'" on Benson's 1998 album Standing Together, and the guitar and vocal legend returned the favor by playing a duet with Nils on Nils' 1998 debut CD Blue Planet; Blue Planet also featured performances by Gerald Albright, Nathan East and the late vocalist Carl Anderson. Nils' other recent projects further demonstrate this diversity. Eddie Brown, half of the 60s folk duo Joe and Eddie, recorded a song at Nils studio which the two produced together. "Follow the Drinking Gourd" (the Big Dipper) is a tale about the Underground Railroad and slaves following the big dipper (drinking gourd) as a guide to freedom. The band backing Eddie is Gravity180. The song will be the main title song for a feature film about Joe and Eddie's lives. Nils also produced two songs for 10-year old pop singer/songwriter Sophie Rose.
He recently completed an electronica-driven side project called "Vibrations" under the alter ego "String Theory"; very European in vibe and texture, it's in the vein of outfits like Groove Armada, Thievery Corporation and Massive Attack. The video for the title track can be seen at www.string-theory-music.com. In addition to his strictly musical endeavors, the guitarist also created "Backstage Pass With Nils," a radio series in which he gets the behind the scene scoops from his smooth jazz peers. Some of his featured artists have included the late Wayman Tisdale, Boney James and Dave Koz. The show is available on several internet outlets and runs on one terrestrial station.
Working with his longtime band which includes bassists Reggie McBride and Alex Al, vocalist and keyboardist Clydene Jackson (one of the two featured vocalists whose voice was textured for the "Avatar" soundtrack), drummer Ricky Lawson and percussionist Oliver Brown (an original member of KC and the Sunshine Band), the guitarist amps up the groove and heads in a deeper R&B direction on What The Funk?, a 12 track set that rolls like a high-spirited, ongoing response to the colorful title question.
"While the format that plays my music has jazz in its name, I've actually always been most at home playing R&B and pop," Nils says. "I like to incorporate a lot of different styles and influences. On the last album, I recorded Santana's 'Europa," a big crowd pleaser live which has a total rock flavor. 'Detroit Strut' on What The Funk? also has pop/rock influences. My main goal is to make that important emotional connection with the audience. I really like to project the melody and make people feel things through the way I play the song. It's not just about playing a beautiful melody. Sometimes, part of it is manipulating the tone to help me evoke a certain feeling or emotion."
The title track is a thumping, discofied, retro-soul party anthem with horns and party vocals galore. Other titles tell a similarly funkified story, starting with the moody, old school "Shake It," getting over "The Hump," taking "A Walk In The Park" with a trippy, hypnotic Jazzmasters vibe, and taking us back to the blue eyed soul of Hall & Oates with an emotional reading of "Sara Smile." The perfectly titled, pop blues tune "Trip Me" is driven by a Toto-esque "triplet" groove, in which the beat is divided into three. "Dance With Me" swirls an edgy electric guitar melody, jangling acoustic and exotic whistles with polyrhythmic percussion. Nils takes the tempo down for the dreamy and sensual "Morning Light," a reflective piece that displays the emotional "crying" sound of his electric. The moody, classic R&B styled "Save Our Love" is a ballad featuring the lush lead vocals of Clydene Jackson that was originally recorded for her proposed solo project. After the atmospheric, easygoing "Shine Your Love On Me," Nils wraps What The Funk? with "Detroit Strut," a high octane jamming pop/rocker that features some of his most dazzling electric guitar work ever.
While Nils' first inclinations were to follow the lead of his idols Deep Purple and Led Zeppelin, it wasn't until he was introduced to funk music that he was hooked, he spent "endless nights" learning and copying rhythm players like Nile Rogers, Al McKay and Paul Jackson, Jr. "But growing up in Germany," he says, "the chances to become a full time musician were rather slim, unless you wanted to play Top 40 or polkas. The schooling options were either a strictly classical Conservatory or a small private music school."
Moving to L.A. in the mid-80s, he began studying composition, arrangement and film composition. While making inroads into the competitive field of film and television, he got his first job as a teacher at the legendary Valley Arts Music Store; no matter how busy he's become over the years as the various facets of his career—sideman, film composer and now solo artist— have taken off, Nils still loves to give back by teaching young guitarists. While acquiring his current production skills as a studio engineer in the 90s, he started doing sessions as a rhythm guitarist. Nils' film and TV credits include producing music for the independent film "Beyond The Ring," working as Music Editor on the Lakeshore feature films "Pathology" and "Midnight Meat Train" as well as on the Fox sitcom "Undeclared" and being Music Editor and stand-in composer for the show "Weeds" for several years.
He has also scored a documentary and composed and added soundscapes for a multimedia DVD project entitled Transmuteo. Besides a commercial release, one of his goals with his String Theory project is to use it as a calling card for music supervisors to further his involvement in the film and TV scoring world. In that vein, Nils has done the underlying music score for the Independent Spirit Awards the past three years.
Nils new website (www.nilsmusic.com) is a comprehensive way for fans of his instrumental recordings to learn all the different facets of his rich artistry and projects. One section of the site is devoted to his descriptions of his gear, which includes his main guitar, a 1986 Valley Arts Custom Ser# 159, the Bogner Ecstacy guitar amp and Celestion Vintage 30 speakers.
"As much as I've loved creating music in the studio all these years, I realized when I started to play concerts and festivals last year that I'd been missing the ying to my yang, so to speak," he says. "When I'm out on the road half the year, I look forward to getting back in my home studio and developing new material. Then after a few months there, it's fun to get back out there and play for people. It's a wonderful experience to interact with my live band on the road. Combine the energy we create onstage with the energy of the audience and it's a truly magical, wonderfully validating experience. The goal every time we take the stage is to capture the fans in ways they couldn't have imagined when they took their seats, and then embrace that moment when they start responding to the music and go crazy. It's very gratifying to have the opportunity to get Up Close and Personal with them."
Comments
comments