Feels So Good

I recently attended a CD release party for Johnny Britt's new project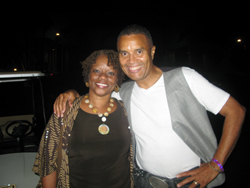 "Feels So Good." That's how folks in the music business used to get introduced to new music. The artist comes to a hip club in New York or L.A. and performs songs from the new project in front of an audience of industry bigwigs and other artists and if it's really good stuff, this is where the buzz begins.
And there should be a lot of buzz surrounding this one. I fell in love with Johnny Britt's music when I heard him do Marvin Gaye's "You Sure Love To Ball" with his neo-soul band Impromp2. The tribute continues on this new CD with several songs that clearly echo tunes from the Marvin Gaye catalog, including "Why," a song heard here on the Smooth Jazz Sunday Brunch soundtrack.
But Johnny Britt is much more than a Marvin Gaye impersonator. He's a one man wrecking crew; proficient on piano, trumpet, vocal and more.  He's a prolific writer, cranking out hit songs not only for himself but for major artists like Boney James, whose latest chart-topping CD features several songs penned by Britt including the title track "Contact."
Sounds like great music to me and I love his positive sensibilities along with his dedication to uplifting women. With Impromp2 he recorded a great song called "You're A Queen" that every young girl in America needs to hear (some of us older girls should listen too) and he continues that theme on "Feels So Good" with a song called "Beautiful Queen." It's also nice to hear romantic love songs, a couple of which Johnny wrote with his wife, Arlene Britt.
Johnny describes his music as "Miles Davis meets Marvin Gaye" and the marriage is one that should last a long, long time. There is still great R&B music out there; you just have to search to find it. Look no further than Johnny Britt's new release "Feels So Good." Visit Johnny's website at JohnnyBritt.com.
Comments
comments