Gregory Porter, The New Voice
Of Jazz, Takes You Back
Gregory Porter's music takes us back to a time when crooners like Grady Tate, Johnny Hartman and Billy Eckstein sang heartbreakingly beautiful
 ballads in deep and melodious tones. Make no mistake about it: he is a jazz singer but he also has the sensibilities of a master story teller and a style that is attracting legions of fans around the world.
Gregory Porter has it all – a voice that is smooth as silk and an articulate delivery that allows you to hear every word he sings. He makes you lean in and listen and on top of that, he's actually got something to say in his songs. From themes of love shared and lost to political statements that transport us to the turbulent sixties, Greg Porter has certainly gotten my attention too.
We saw him in May at the Capitol Jazz Festival in Maryland and then again in June at the Playboy jazz Festival in LA at the Hollywood Bowl. At both performances he whipped the crowd into frenzy and had them on their feet cheering by the end of his set. That's a big deal at the Playboy Jazz Festival which is sometimes more like a family reunion than a concert, with lots of chatter and laughter going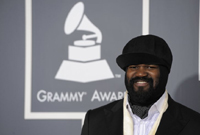 on but not while Gregory Porter is singing. He commanded our attention and it was cool to watch people turn around and actually listen to his set.
Gregory Porter recording debut was an album called "Water" in 2010. Since then, he released a second project entitled "Be Good" and earned a Grammy nomination for Best Jazz Vocal Album. He didn't take the statue home, but especially in the case of jazz music, this is one award where it truly is an honor just to be nominated.
His newest release is scheduled to drop sometime this fall and we can hardly wait. It will be called "Liquid Spirit" and will be on the legendary Blue Note label.
Gregory Porter is a legend in the making and a name you'll be hearing about for quite a while.
Comments
comments