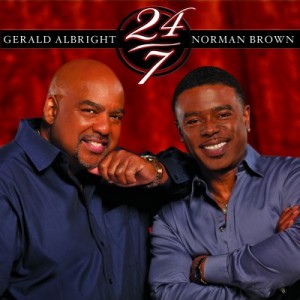 24/7
Two of the biggest contemporary jazz artists of this era are on tour together this summer in support of a new collaborative album that is currently #1 on the Billboard jazz charts.
Gerald Albright and Norman Brown have teamed up on the new CD titled 24/7 and.  It's a special project, not only because these two super talented guys are really close friends, but also because they have something else in common.  They each have talented daughters whose vocal skills are featured on some of the tracks.
I talked to both Gerald and Norman about working together and including the younger generation. If you haven't heard 24/7 yet, you're missing out on one of the best releases of 2012.
Eavesdrop on some of Pat's conversation with Gerald and Norman:
Clip-1-Gerald-Albright-clip-about-daughter
Clip-3-Gerald-Albright-clip
Clip-2-Norman-Brown-clip-about-daughter
Comments
comments