Honoring Black History Month
with Pat Prescott and Ayuko Babu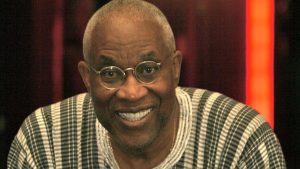 Wanna get away? How about taking a trip around the world without buying a plane ticket or packing a suitcase?  Then make your way over to the 25th Annual Pan African Film Festival, Thursday February 9, 2017 through Monday February 20th in Los Angeles. We sat down with festival founder Ayuko Babu to talk about this year's offerings and to reflect on 25 years of presenting films from the African Diaspora and beyond.
The Pan African Film & Arts Festival is located at Baldwin Hills Crenshaw, 3650 Martin Luther King, Jr. Blvd, Los Angeles, CA 90008. (Corner of Crenshaw and Martin Luther King Jr., Blvd.) Tickets may be purchased online at Cinemark or at the Cinemark Baldwin Hills Cinemas 15 (formerly RAVE Cinema) box office.
Comments
comments