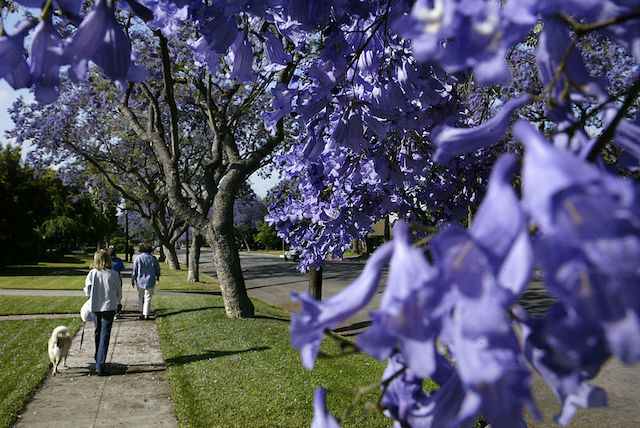 The Story Behind Los Angeles' Beautiful,
Ephemeral Jacaranda Blooms
Jacaranda season may be brief, but for a short burst of time all of Los Angeles seems to be in purple-blue bloom.
Ordinary trees explode in a riotous violet haze. Palm Drive becomes a tunnel; North Whittier a lavender canopy. Stansbury Street is engulfed. The Santa Monica stretch of jacaranda trees from Wilshire to Colorado on 3rd is a designated city landmark, and for good reason.
Technically, there are 49 species of jacaranda trees, but it's the Jacaranda mimosifolia, also known as the "blue jacaranda," that is ubiquitous here. They bloom twice a year, once in spring, usually in late May or early June, and again in the fall.
Like many things intrinsic to the city, jacarandas are not actually native to Los Angeles. The trees are indigenous to South America, originally found in the tropical and subtropical regions of Argentina and Brazil.
In 1944, a scholar visiting from Chicago described "the immense clusters of violet blue flowers" in a scientific journal, explaining that an illustration of a Jacaranda mimosifolia flower on the facing page was "made from specimens collected in the environs of Los Angeles where this tree is widely grown for its beauty."
Have you ever heard a more L.A. thing? One can only imagine what those weary midwesterners must have thought of us, we Californians, who grew things just for their beauty. Vladimir Nabokov is said to have claimed that he could have lived in Los Angeles for the jacaranda trees alone.
There were 148,530 jacaranda trees in the city, as of 2010. Mature jacaranda trees can reach 25 to 45 feet, with an oval canopy that spreads almost as wide as the tree's height. Up close, the trumpet-shaped flowers are an inch or two long, and usually five-petaled. From afar, they are a fairytale, a free pass to a foreign land.
Comments
comments