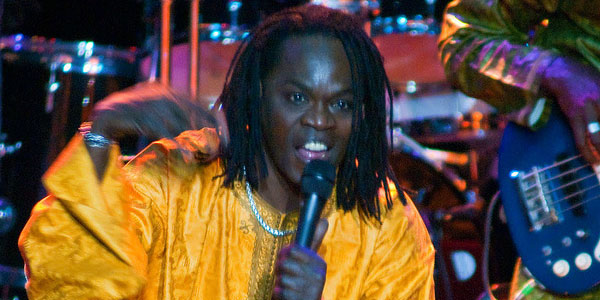 Senegalese Super Star Baaba Maal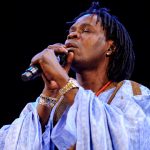 Born into a large family of fishermen in the Fouta town of Podor in 1953, Baaba studied music in Dakar, the capital of Senegal, and Paris, and embarked on a two-year musical pilgrimage around west Africa with his friend Mansour Seck. He then recorded albums with Seck, including the desert blues classic Djam Leelii, and the band Daande Lenol (The Voice of the People). Since the 1980s, he has released several solo albums, toured the world many times, worked with Hans Zimmer on the soundtrack to Black Hawk Down, and collaborated with the likes of Brian Eno, Peter Gabriel, Tony Allen and U2. Despite his international perspective, he has always acknowledged his roots by singing in Pulaar, the Fulani dialect of the Senegal River valley. Baaba's work is a modern twist on the West African tradition of the griot: the storytelling troubadour.
Heroic, Historic Cross-Cultural
Music Collaboration in Black Panther
Black Panther director, Ryan Coogler, and Swedish composer Ludwig Göransson became friends and colleagues when they were both at USC film school. Since then they worked together on Fruitvale Station, Creed and most recently the historic blockbuster Black Panther. Göransson's score for Black Panther contains some of the most renowned names in contemporary music: Kendrick Lamar, The Weeknd, SZA and Khalid among others. 
Göransson and Coogler's task with the music was to combine modern sounds with those of ancient Africa, interwoven with heroic orchestration. Setting the tone for the film is one of Africa's greatest artists, Senegalese super-star, Baaba Maal. It is his powerful, dynamic voice, accompanied by the profoundly articulate talking drum, that captures the soul of Wakanda as we first come upon it, soaring through the clouds. Hear a sample of it in the trailer above and then get to know more of Baaba Maal's  joyous, life-affirming artistry in the video of Yela, from his Grammy-nominated masterpiece, Firin' in Fouta.
Baaba Maal - Yela
Comments
comments