The Mid-Autumn Festival, or Mooncake Festival, is traditional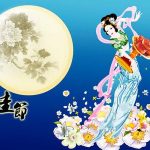 ly celebrated on the 15th day of the eighth month of the Chinese lunar calendar. This year, it falls on Oct 4. The festival, dating back to ancient China, pays homage to the moon and good harvest.
The common customs of the Mid-Autumn Festival include family members eating dinner together, just like a Thanksgiving dinner, sharing mooncakes, worshiping the moon with gifts, displaying lanterns, and regional activities.An important part of the festival celebration is moon worship. The ancient Chinese believed in rejuvenation being associated with the moon and water. These beliefs made it popular among women to worship and give offerings to the moon on this evening.
Mooncakes, usually made of a rich paste filling surrounded by a thin crust, are traditionally eaten while sipping tea and gazing upon the roundest, brightest moon of the year after a mid-Autumn family dinner.
Comments
comments